Islamic terrorism in India Current Affairs, GK & News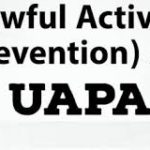 The Indian Government has classified several dreaded terrorists like Masood Azhar, Dawood Ibrahim, and Hafiz Saeed as individual terrorists under the UAPA Act. This decision was taken nearly a month after the Indian Parliament allowed this crucial amendment to the UAPA law. What has happened? The Indian Union Government has declared Dawood Ibrahim, Hafiz Saeed ..
Topics: Azhar • Bombay bombings • Crime • Crime in India • Dawood Ibrahim • Fugitives • Hafiz Saeed • Islamic terrorism in India • Masood Azhar • Punjabi people • Terrorism in Jammu and Kashmir • Unlawful Activities (Prevention) Act
The Sri Lankan government has declared an immediate curfew across the entire nation in the wake of recent bombings which have been labelled as the worst in the decade. The country has been gripped by a series of blasts which took place both in and around the national capital. Three blasts took place in three ..
Category: Uncategorized
Topics: Colombo • Disasters • Islamic terrorism in India • June 2012 Kaduna church bombings • Man-made disasters • Sri Lanka Easter bombings • Terrorism in India
The National Security Guard (NSG) Set up in 1984 India's federal contingency deployment force mainly to tackle terrorism situations, which were beyond the control of state police and other central police forces. Known as Black Cat commandos NSG is a task-oriented force and is meant for use only in exceptional conditions. In the beginning, the ..
Month: Current Affairs - December, 2011
Topics: Akshardham Temple attack • Attacks • Counter-terrorism • Crime in India • Indian Airlines Flight 427 • Islamic terrorism in India • Law enforcement in India • Mumbai attacks • National Security Guard • NSG • Special forces of India • Violence
Guest Post by : Sandeep Jogula, [Civil Service Aspirant] The National Security Guard (NSG) is a Special Response Unit in India that is primarily utilized for counter-terrorism and anti-hijacking operations. Functions: Neutralization of terrorist threats. Handling hijacking situations in air and on land. Bomb disposal (search, detection and neutralization of IEDs). PBI (Post Blast Investigation). ..
Topics: Counter-terrorism • Indian films • Islamic terrorism in India • Keerthi Chakra • Law enforcement in India • Military • Mumbai attacks • National Security Guard • Para • Prevention • Safety • Special forces of India