Kerala's plan for free Internet roll-out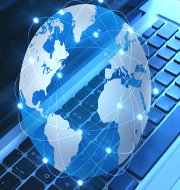 Kerala's plan for providing free Internet access to the poor has been roll out. Recent report by the Internet And Mobile Association of India (IAMAI), shows that Kerala is already halfway to its goal of 100% coverage. Kerala Fibre Optic Network project, pegged at ₹1,548 crore, would provide Internet to every household in the State. The project has an ambitious timeline — it is slated for completion by December 2020.
According to a recent study by the Internet and Mobile Association of India and Nielsen, the country has 451 million active Internet users. But this number masks huge access gaps. Internet penetration is significantly higher in urban areas than it is in rural areas; it is also significantly higher for men than it is for women. The best-performing State, Delhi-NCR, has an Internet penetration of 69%. The second-best is Kerala, with just 54%. No other Indian State has recognised Internet access in this manner till now. This is also in sync with what the UN has been articulating in recent years, based on the Internet's role in enabling freedom of speech and reducing inequality, among other things.
Topics: Cultural globalization • Digital technology • Information and communications technology • Internet • Kerala • Media technology • Technology • Telegraphy
Latest E-Books