Jammu and Kashmir has no sovereignty: SC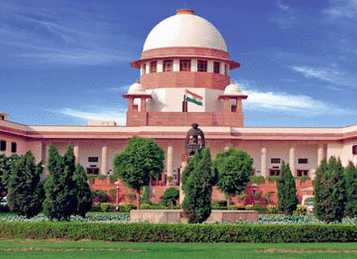 The Supreme Court in a landmark verdict held that Jammu and Kashmir is an integral part of India and did not enjoy sovereign status, either under its constitution or that of India.
The apex court made this observation while hearing on appeal filed by State Bank of India (SBI) and other banks over the issue of recovery of loans under Securitisation and Reconstruction of Financial Assets and Enforcement of Security Interest (SARFAESI) Act, 2002. It affirmed that J&K's constitution was subordinate to the Indian Constitution and its permanent residents were Indian citizens.
What is the issue?
The SBI and other banks had appealed against Jammu and Kashmir High Court verdict given in July 2015. The J&K HC had held that the SARFAESI Act, 2002 enacted by the Parliament was not valid in respect of the permanent residents of the state as it collides with the Transfer of Property Act of Jammu & Kashmir, 1920. It had held that law made by Parliament which affects the laws made by a State legislature cannot be extended to J&K. In its judgment, the HC had repeatedly referred to the sovereignty of the state and held that Section 5 of the Constitution of J&K gives absolute sovereign power to state to legislate in respect of laws touching the rights of its permanent residents qua their immovable properties.
Supreme Court Verdict set aside HC verdict and held that 
Section 3 of the constitution of J&K, states that the state of J&K is and shall be an integral part of the Union of India. This provision is beyond the pale of amendment.
Thus, it is clear that J&K has no vestige of sovereignty outside the Constitution of India and its own constitution, which is subordinate to the Constitution of India.
Preamble to the J&K's constitution also does not talk about sovereignty of citizens of the state. Thus, J&K HC has gone out of its way "to refer to a sovereignty which does not exist.
Permanent residents of J&K are citizens of India and there is no dual citizenship as is contemplated by some other federal Constitutions in other parts of the world.
Therefore, it is wholly incorrect to describe it as being sovereign in the sense of its residents constituting a separate and distinct class in themselves.
The provisions of the SARFAESI Act, 2002, are within the legislative competence of Parliament and can be enforced in J&K.
Note: SARFAESI Act's provision entitles banks to auction properties to recover loans.
Month: Current Affairs - December, 2016
Topics: Jammu and Kashmir • judiciary • National • SARFAESI • SBI • Supreme court
Latest E-Books