India – Russia 2+2 Dialogue: Agreements on AK-203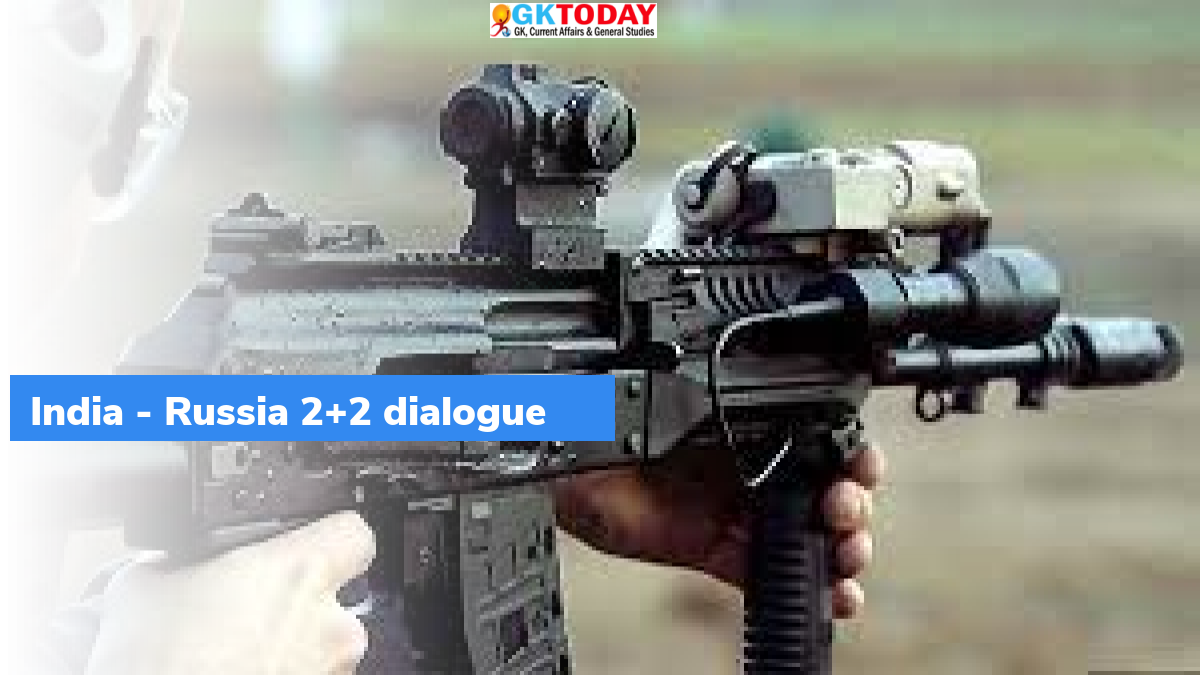 The India – Russia 2+2 Ministerial Dialogue was held in New Delhi in December 2021. It was held by the defence ministers and external affairs ministers of the two countries.
About the India – Russia 2+2 Dialogue
This is the first 2+2 Dialogue held between India and Russia.
During the dialogue the countries discussed the ongoing situation in Afghanistan.
The dialogue expanded military cooperation and joint development between the countries.
It also focused on the production of military platforms in India.
The leaders also discussed the regional and global issues apart from the developments in Afghanistan, Pakistan and Iran.
India's focus
India's focus in the dialogue or the reasons why India participated in the dialogue are as follows:
India aims at greater engagements in central Asia
To achieve self-reliance
Free and open Indo – Pacific region
Agreements signed
During the dialogue India signed a contract with Russia to procure more than six lakh AK – 203 rifles. The agreement was signed under the Indo – Russia Rifles Private Limited Programme. Under the agreement, rifles are to be manufactured under a joint venture in Amethi. The rifles are to be manufactured at a cost of Rs 5,000 crores.
The countries signed a treaty to amend the agreement on Cooperation for Kalashnikov series small arms manufacturing. This treaty was signed in 2019. Under this, the countries are to extend the military technology cooperation for the next decade, that is, between 2021 and 2031.
The leaders signed more than ten agreements in the field of oil, space, helicopters and defence logistics.
Significance
The dialogue addressed the multipolarity and rebalancing. It also focuses on the newer challenges before the countries such as terrorism and violent extremism.
The agreements help India enhance its regional security.
Indo – Russia Rifles Private Limited
It is a rifle manufacturing facility in Amethi, Uttar Pradesh. It is a joint venture of Ordnance Factory Board and Kalashnikov concern of Russia. The Kalashnikov is one of the most widely used guns in the world. Around 72 million rifles of Kalashnikov class guns are in circulation. AK – 47 is also a Kalashnikov class gun. AK – 19 and AK – 204 are advanced versions of the gun.
The AK – 203 along with the SIG716 will replace the AK – 47 and INSAS rifles of India. The SIG716 is manufactured by US based SIG Sauer.
Month: Current Affairs - December, 2021