IAF pay homage to Kargil War Martyrs during Operation Safed Sagar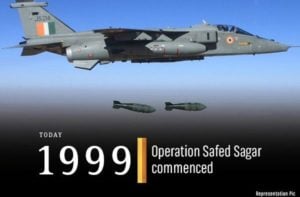 The Indian Air Force (IAF) Chief Air Chief Marshal (ACM) B.S. Dhanoa visits Air Force Station in Bhisiana and Sarsawa to pay homage to the air warriors who made supreme sacrifice during Operation Safed Sagar at Kargil.
Key Highlights
Background: On 28 May 1999 the Indian Air Force lost a Mi-17 helicopter after successfully attacking the enemy in Drass sector (J&K). On this day 1999 Squadron Leader Squadron Leader Ajay Ahuja who was at that time the Flight Commander of 17 Squadron laid down his life along with Squadron Leader R Pundhir, Flight Lieutenant S Muhilan, Sergeant R K Sahu and Sergeant PVNR Prasad who also died in action in that Mi-17 helicopter during the Kargil conflict.
About: The Chief of the Air staff (CAS) B. S. Dhanoa paid tribute to Late Squadron Leader Ajay Ahuja and other fallen heroes who lost their life 20 years back during the Kargil war.
CAS B.S. Dhanoa flew the 'missing man' formation flypast in a Mig-21 aircraft. He was accompanied by Air Marshal R Nambiar, Air Officer Commanding-in-Chief (AOC-in-C) Western Air Command in the 'missing man' flypast organised at Air Force Station in Bhisiana in Bhatinda to honour the valour and supreme sacrifice of men killed in action during Operation Safed Sagar at Kargil, J&K.
On 28 May the CAS visited Air Force Station Sarsawa and fly in a Mi-17 V5 'Missing Man' formation flypast to commemorate the Kargil martyrs.
About The 'Missing Man' formation
It is an aerial salute accorded to honour the fallen comrades-in-arms. It is basically an Arrow Formation, with a gap between two aircraft in a way that the formation depicts the Missing Man.
About Operation Safed Sagar (or "Operation White Sea")
It was the code name assigned to Indian Air Force's (IAF) role in acting jointly with Ground troops of Indian Army during the Kargil war in 1999.
It was aimed at flushing out Regular and Irregular troops of Pakistani Army from vacated Indian Positions in Kargil sector along Line of Control (LOC).
Since 1971 Indo-Pakistani War, it was the first large scale use of Airpower in Jammu and Kashmir region.
Month: Current Affairs - May, 2019