Government scraps All India Handicrafts Board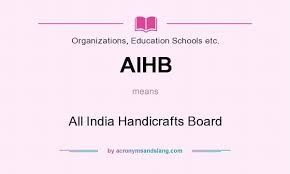 The Ministry of Textiles has decided that the All India Handicrafts Board and the All India Handloom Board – advisory bodies created to help the government in the formulation of policies pertaining to the sector in the country. The reason is that the central government wants to ensure the 'Minimum Government and Maximum Governance'.
All India Handicrafts Board
It was set up on January 23, 1992, in order to bring the experts in the sector together to formulate policies regarding this industry in the country. It had members from the central government and the state governments and the Union Minister of Textiles was the Chairman of the board. This board was reconstituted for a period of two years only in 2014.
Handloom Sector in India
It is one of the largest employment generators in India after agriculture sector since it provides employment to 43.31 lakh persons engaged on about 23.77 lakh handlooms of which 10% are from SC, 18% are from ST and 45% belong to the OBC community. This contributes to around 15% cloth production in the country and also promotes export earnings from the country. 95% of the hand-woven fabric in the world comes from India only.
National Handloom Day
It is observed on August 7 every year starting from 2015. The main objective is to create awareness regarding the importance of this sector and also the contribution of the sector towards the economy of our country.
Month: Current Affairs - August, 2020