Union Cabinet gives nod to MoU with Bangladesh for operation of traditional haats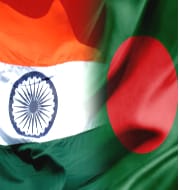 The Union cabinet has given its ex-post-facto approval to Memorandum of Understanding (MoU) with Bangladesh for Mode of Operation of Border haats on India-Bangladesh Border signed in 2010.
The MoU also seeks to establish new Border Haats along the border after identification of suitable locations in consultation with Bangladesh Government and concerned State Governments.
What are Border Haats?
The Border Haats in Indian Language means Rural Market. It aims at promoting the well-being of the people dwelling in remote areas across the borders of two countries.
It seeks to establish traditional system of marketing the local produce thorough local markets in local currency or according to barter basis.
Though the trade carried in this informal market is not significant in terms of percentage of bilateral trade, but these local measures help to improve economic well-being of marginalised sections of society.
Background
Border haats along the border of two countries are established under a MoU signed for Border Trade and Border Haats in October 2010.
As per the rules and guidelines of this MoU, traders in communities of both India and Bangladesh can trade their local produce without any duty.
It allowed to trade people living in border areas in specified products in accordance with the regulations agreed and notified by both Governments.
Presently 4 Border Haats are already operational along India-Bangladesh border. They are (i) Kalaichar (Meghalaya). (ii) Balat (Meghalaya). (iii) Kamlasagar (Tripura) (iv) Srinagar (Tripura).
In addition, both Governments also have agreed to further establish 2 Border Haats in Tripura and 4 Border Haats in Meghalaya along the border.
Month: Current Affairs - January, 2016
Topics: Border Haats • Cabinet Decisions • Current Affairs 2016 • India-Bangladesh • Trade
Latest E-Books