Shesh Anand Madhukar honoured with Sahitya Akademi Bhasha Samman award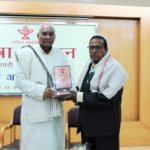 Magahi writer Shesh Anand Madhukar was honoured with Sahitya Akademi Bhasha Samman award. He is second writer of Magahi language to be given this award.
Magahi language
Magahi language also known as Magadhi is language spoken in Bihar-Jharkhand region of eastern India. It has been derived from ancient language Magadhi Prakrit, spoken in ancient kingdom of Magadha. It is believed to be the language spoken by Gautama Buddha. It was official language of the Mauryan court, in which edicts of Ashoka were composed. Magadhi has approximately 18 million speakers and has a very rich and old tradition of folk songs and stories. It has not been constitutionally recognised in India and was legally absorbed under Hindi in the 1961 Population Census.
Shesh Anand Madhukar
Madhukar has been working extensively for the development of the Magahi language. He had started his career as lecturer in Hindi. He entered in the field of literature in 1960 and since then he has immensely contributed in enrichment of language.
His poems have been published in leading literary magazines. In his long and illustrious career, he has large body of work to his credit in both Magahi and Hindi. Some of his well-acclaimed works in Hindi are Eklavya, Magahi Kavita Ke Bimb and Bhagwan Birsa. In Magahi, his well-acclaimed works are Eklavya and Magahi Bhulachal Hey.
Bhasha Samman
It identifies and honours literary works in those languages which are equally spoken in different parts of country by are not among 24 regional language recognised for Sahitya Akademi Awards. The award is attempt to make writers of other languages feel equally important. The award comprises Rs 1 lakh cheque and memento,
Category: Awards, Persons & Places in News
Topics: Art and Culture • Awards • Magahi language • Persons in News • Sahitya Akademi Bhasha Samman • Shesh Anand Madhukar
Latest E-Books