Rajasthan Assembly Passes Bill to Scrap Minimum Education Qualification for Civic Polls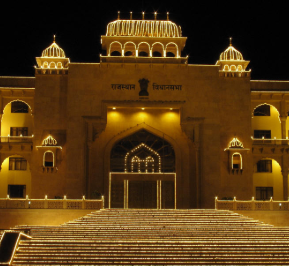 The Legislative Assembly of Rajasthan passed the Rajasthan Panchayati Raj (Amendment) Bill, 2019 and the Rajasthan Municipality (Amendment) Bill, 2019 to end the minimum education criterion for panchayat and civic polls candidates.
What was the education criterion proposed?
As per the Rajasthan Panchayati Raj Amendment Bill 2015, Candidates were:
Required to have passed Class X for contesting municipal elections, Class VIII for contesting panchayat polls for the post of a sarpanch, and Class X for contesting Zila Parishad or Panchayat Samiti elections.
Construction of toilets in their homes as mandatory for contesting polls to the panchayati raj institutions in the state.
Even the Supreme Court had upheld the constitutional validity of a similar law in Haryana which mandated education qualification for candidacy in local polls. The Supreme Court had said that "it is only education which gives a human being the power to discriminate between right and wrong, good and bad".
Why the government scrapped the criterion?
In the run-up to the assembly elections in 2018, the Congress Party had included in its manifesto that it would abolish the minimum education criterion for panchayat and civic polls candidates if it comes to power.
Defending the bill the government stated in assembly that Sarpanches awarded by President, Vice President were declared ineligible due to the provisions in the previous Act. The Act was against the basic tenants of the Constitution and society cannot be divided on the basis of education.
The government even stated that several cases had come up where people contested the election on the basis of fake certificates. The minimum education qualification created two sections in the society and the illiterate people had started feeling inferior.
Month: Current Affairs - February, 2019
Topics: Civic Polls • Haryana • Minimum Education Qualification • Rajasthan • Rajasthan Municipality (Amendment) Bill 2019 • Rajasthan Panchayati Raj (Amendment) Bill 2019 • Rajasthan Panchayati Raj Amendment Bill 2015 • Sarpanches • Supreme court
Latest E-Books