October 14: International E-Waste Day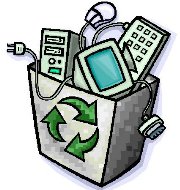 On October 14, 2020, the third International E-Waste Day was observed. The day is being observed by the Waste Electrical and Electronic Forum (WEEF) since 2018. This year, the day is observed on the theme
Theme: Education
Highlights
According to the United Nations, the volume of E-waste generated in the last five years has increased by 21%. The United Nations also says that around 53.6 million tonnes of E-waste are generated world-wide. Of this only 17.4% is collected and recycled. It also estimates that 74 million tonnes of e-wastes will be generated by 2030.
Rapid advances in the technology, urbanisation process and economic growth are the major reasons for rapid increase in E-Waste.
Significance
The day brings out the importance of recycling and reducing the e-waste. It is important to celebrate the day and increase awareness about the hazards of E-waste as only 78 countries have sound E-waste management. Only 71% of world population is covered under E-waste legislation.
India
India generated 3.2 million tonnes of e-wastes in 2019. The Central Pollution Control Board has registered 312 E-waste recyclers. In 2016, the Ministry of Environment, Forest and Climate Change notified E-Waste Management rules, 2016. It enforces Extended Producer Responsibility. According to Extended Producer Responsibility, the producers are responsible for the e-waste generated from their goods.
India along with China accounts to 38% of E-waste generated. In the last three years, the E-waste generated in India has increased by 43%.
About WEEE forum
It was established in 2002 by organizations from six countries such as Austria, Netherlands, Belgium, Norway, Switzerland and Sweden. Today organizations from more than 25 countries are part of the forum.
Hazards of Electronic Equipment
The electronic equipment contains hazardous metallic contaminants such as cadmium, lead and beryllium. Plastics account to 30% of E-waste. Lead is the most harmful hazardous element of all the electronic equipment. Lead affects children more than the adults.
Month: Current Affairs - October, 2020
Category: Important Days & Events Current Affairs
Topics: Central Pollution Control Board • E-Waste • international E-waste day • United Nations • Waste Electrical and Electronic Equipment Directive
Latest E-Books