Ministry of Culture organises Madhavpur Mela in Gujarat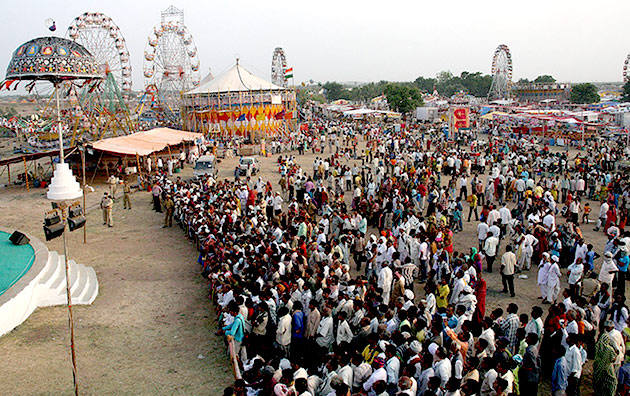 The Union Ministry of Culture for the first time had organised Madhavpur Mela in Madhavpur Ghed in Porbandar District of Gujarat under the banner of Ek Bharat Shrestha Bharat. Its purpose is to bring various parts of country especially the North-East, close to each other.
Key Facts
The four day cultural extravaganza saw vibrant cultural trail of art, dance, music, poetry, story-telling and folk drama from Arunachal Pradesh, Manipur and other north-eastern states with an aim to integrate the rich cultures of two regions. It also witnessed for first time the magnificent performances from north-east, especially Arunachal Pradesh and Manipur.
Troupes from Assam performed Rukmini-Haran, a popular folk theatre of the region. Musical troupe from Manipur sang songs related to Rukmini in Khullong Ishei and Nat genŕe.  Dance-dramas based on Rukmini-Krishna legends from Arunachal Pradesh and Manipur and folk dance of Idu Mishmi tribe from Arunachal were also displayed.
Background
Madhavpur Mela of Gujarat shares its connect to Mishmi Tribe of Arunachal Pradesh. The tribe traces its ancestry to legendary King Bhishmak and through him to his daughter Rukmini and Lord Krishna.  
Madhavpur Ghed is small but culturally significant village. According to folklore, it is place where, Lord Krishna married Rukmini, the daughter of King Bhishmaka. Madhavpur lies on the seashore, close to Porbandar. 15th century Madhavrai temple marks the site. Madhavpur Mela is commemorated b cultural fair held every year, commencing on Ram Navami. As part of the celebrations, a colorful chariot carrying idol of Krishna circumnavigates village and festivities usually continue for five days.
Ek Bharat Shreshtha Bharat
It was announced by Government 31st October, 2015 on the occasion of the 140th birth anniversary of Sardar Vallabhbhai Patel. Its objective is to strengthen cultural relations of various parts of country and to embolden mutual connection between people dwelling in different in different states
It also aims to celebrate unity in diversity culture of nation and to bolster sentimental bonds between people of different states. It aims to strengthen sentiments for National Unity between citizens of states and states governed by union government by conducting various activities throughout year under this campaign.
All States and UTs will be covered under programme. Under it, there will be pairing of states/UTs at national level mainly for one year or till the next round of pairings. The pairings are being utilized for state level activities. There are district level pairings also that are independent of state level pairings.
Month: Current Affairs - March, 2018
Category: Art & Culture Current Affairs
Topics: Art and Culture • Ek Bharat Shreshtha Bharat • Gujarat • Madhavpur Mela • Ministry of Culture • North East
Latest E-Books