Italy's Prosecco hills enters UNESCO World Heritage list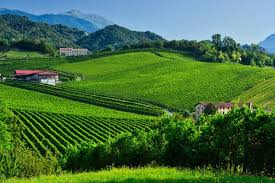 Italy's hills of Conegliano and Valdobbiadene, which is home to world-famous sparkling wine Prosecco, were added by UNESCO (United Nations Educational, Scientific and Cultural Organization) to World Heritage list. The decision to add hills to list was taken at a meeting of UNESCO's World Heritage Committee in Baku in Azerbaijan.
About Prosecco hills
The Conegliano and Valdobbiadene hills are where grapes grown produce famous prosecco sparking wine.
Location: These Prosecco hills are located northeast of Venice, have been cultivated for centuries. It stretch for 30 kilometres (nearly 20 miles)a
Landscape: It is characterised by hogback hills, ciglioni–small plots of vines on narrow grassy terraces- forests, small villages and farmland.
This rugged terrain has been shaped and adapted by man for centuries now.
Italy has been lobbying to have Prosecco hills receive World Heritage recognition for at least a decade.
It has now become Italy's 55th World Heritage site.
Importance of Prosecco: The prosecco sparkling white wine has highest classification available to an Italian wine. It is produced in a territory spread over 9 provinces in Italy's northeast. Sales of wine rose 6% in 2018 to 460 million bottles, of which 75% were exported. It has now become the most popular Italian wine abroad, with its exports seen rising by a record 21% in 2019 in foreign markets.
Related Posts
Category: Art & Culture Current Affairs
Topics: Conegliano and Valdobbiadene hills • Culture • Italy's Prosecco hills • Prosecco hills • Prosecco Wine • UNESCO World Heritage list • UNESCO's World Heritage Committee
Latest E-Books