Israel honors 1971 war hero Lt. Gen. (retd) JFR Jacob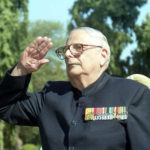 Israel honors 1971 war (Bangladesh's Liberation War) hero Lt. Gen. (retd) Jack Farj Rafael (JFR) Jacob with a plaque on Wall of Honour at the Ammunition Hill, Israel.
JFR Jacob
He was one of the most prominent members of India's relatively small Jewish community, who served as a Lieutenant General in Indian Army and as the chief of staff of Indian Army's Eastern Command.
He also fought in World War II and the Indo-Pakistani War of 1965.
He negotiated the historic surrender of Pakistani troops in Dhaka after the 1971 war.
He later became Governor of two Indian states Goa and Punjab.
He died in 2016 at the age of 92.
The Wall of Honour
It pays tributes to heroism and courage of Jewish soldiers who fought in defence of the countries they lived in. It also honors their embodied virtues like values of bravery, loyalty, commitment and dedication to a mission, leadership, creativity, camaraderie and sanctity of life.
The Wall has plaques honoring more than 340 people namely privates, high ranking army officers, women, front line fighters and humble members of supporting units who implemented these virtues.
It has one more plaque honoring Lt. Gen. Joseph 'Jerry' Jhirad, an Indian Jewish soldier, who died in 1965 war against Pakistan.
The 90-feet high structure with a flag was donated by Sam Marshall, an Indian Jew, who in association with India-born Jewish Judge, Abe Sofaer of US initiated move to honour Lt. Gen. Jacob at Wall of Honour.
Ammunition Hill
It was a fortified Jordanian military post in northern part of Jordanian ruled East Jerusalem. It is the site of one of fiercest battles during Six Day War (Arab–Israeli War 1967) in Israel lost 21 soldiers but emerged victorious.
It has become a national memorial site where young soldiers and officers are inducted into Israel Defence Forces (IDF) and salute Israeli flag.
Month: Current Affairs - May, 2019
Category: Awards, Persons & Places in News
Topics: 1971 war • Ammunition Hill • Arab–Israeli War 1967 • Bangladesh's Liberation War • East Jerusalem • israel • JFR Jacob • Pakistan • Six-Day War • The Wall of Honour • World War II
Advertisement