Cauvery Water Management Authority brought under the Jal Shakti Ministry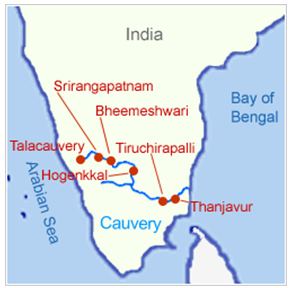 The central government brought the Cauvery Water Management Authority and other river boards under the Ministry of Jal Shakti.
About the Move
The centre recently brought the Cauvery Water Management Authority under the Union Ministry of Jal Shakti. All the river boards including the Godavari River Management Board and Krishna River Management Board have been brought under the ministry as per the Government of India (Allocation of Business) 1961. This will require the boards to report to the ministry but their independence will not be affected.
Cauvery Water Management Authority
The Cauvery Water Management Authority was constituted in June 2018 in accordance with the Supreme Court directive. The CWMA is for addressing the Cauvery water sharing dispute among Karnataka, Tamil Nadu, Kerala and Puducherry. It is composed of a chairperson, a secretary and 8 members.
River Cauvery
The Cauvery River is a peninsular river that originates in Thalakaveri in the Western Ghats in Karnataka. It flows through Kerala, Puducherry and Tamil Nadu before draining into the Bay of Bengal. It is the 3rd largest river in south India after River Godavari and River Krishna.
Category: Legal & Constitution Current Affairs • States Current Affairs
Topics: Ministry of Jal Shakti • River Cauvery • River Management Board
Latest E-Books