ASI declares Chaukhandi Stupa as Monument of National Importance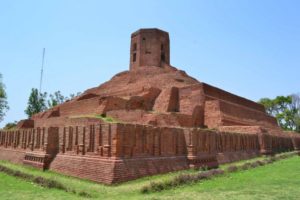 According to a notification issued by Union Ministry of Culture, Chaukhandi Stupa, an ancient Buddhist site located in Sarnath, Uttar Pradesh (UP) has been declared as 'protected area of national importance' by Archaeological Survey of India (ASI).
For declaring the stupa as protected area government sought public feedback on 8 March 2019 for a period of two months.
About Chaukhandi  Stupa
Name: The Stupa is known as 'Chaukhandi' becaause of its four armed plan.
The stupa is an ancient Buddhist site which evolved from burial mounds and served as a shrine for a relic of Buddha. It appears to be in ruins and was originally constructed in 5th Century AD.
It also finds mention in account of Hiuen Tsang, celebrated Chinese traveler of 7th century AD.
Architecture:
It is widely belived that Stupa was originally built as a terraced temple during Gupta period (4th-6th centuries AD) to mark the site where Lord Buddha traveling from Bodh Gaya to Sarnath was reunited with panchavargiya bhikshus (Budhha's five companions) who had previously deserted him at Rajgir.
After Gupta's the stupa's architecture was altered by Govardhan, son of Raja Todarmal, who modified stupa to its present shape by building an octagonal tower in commemoration of Humayun (Mughal ruler) visit.
Current Structure: Stupa is a high earthen mound covered with brickwork, to which stands atop a terraced rectangular plinth and it is capped by an octagonal Mughal tower. It is maintained, conserved and preserved by Archaeological Survey of India (ASI).
Art: Some images of Buddha, such as the image of buddha in dharmachakra pravartana mudra and other statues found during excavations at this Stupa are believed to be rare artefacts and classic examples of art from Gupta period.
Month: Current Affairs - June, 2019