Aero India 2021- Highlights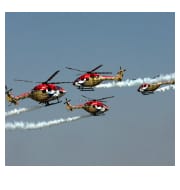 The Aero India 2021 show will start from February 3, 2021 in Bengaluru. The show will conclude on February 5, 2021.
Highlights
During the Aero show, a deal will be Signed worth Rs 48,000 crore to manufacture the 83 indigenous Teja Light Combat Aircraft (LCA)-73.
Another key highlight of the Aero India Show will be India's defence diplomacy.
The order for 83 LCA's will be completed by 2030.
A deal will be signed with Hindustan Aeronautics Limited (HAL) to manufacture the Teja Light Combat Aircraft.
Following that, the first aircraft will be handed over in the next three years. In total, nine years will be required to hand over the crafts to the Indian Air Force.
Further, the Aero India Show will include the defence ministers' conclave of countries of the Indian Ocean Region.
The defence minister conclave will be participated by the Twenty-eight countries. Among them, 19 ministers and representatives will be present at the event while nine will attend it virtually.
Aero India exhibition
The exhibition is organized every alternate year.
It is one of the major exhibitions for the aerospace and defence industries with the public air show.
The exhibition will also enable the industry professional to gain the market insights, announce new developments and gain the media coverage.
Aero India 2021
This is the 13th edition of Aero India which is being organised at Bengaluru, Karnataka. Aero India 2021 will provide opportunity to demonstrate the products to the potential customer and investors. In the conclave, exhibitors will showcase their products using the latest technologies to the potential customers. It will be joined by 600 exhibitors, including 80 foreign companies that would showcase the defence manufacturing prowess.
Significance of the exhibition
This event will bring together the defence ministers of various countries, service chiefs, foreign companies, policymakers, industry, entrepreneurs and academia.
This conclave will also showcase the India's defence cooperation with other countries who are working as the diplomatic instrument.
It will also provide an opportunity for building the bridges of friendship, mutual trust and capacities on a global basis.
It will further showcase "India's accomplishments in defence manufacturing".
Logo for Aero India
The logo for aero India 2021 is inspired by the Tejas Light Combat Aircraft (LCA). The core motif of the logo is the tri-coloured silhouette of the Tejas LCA with the Ashok Chakra in the centre.
Tejas LCA
It is the smallest and lightest Multi-Role Supersonic Fighter Aircraft of its class. It is single engine, Compound-Delta-Wing and Tailless Aircraft. It is designed and developed to meet the diverse needs of the Indian Air Force and Indian Navy.
Month: Current Affairs - February, 2021