Abhinandan Varthaman To Be Awarded Bhagwan Mahavir Ahimsa Puraskar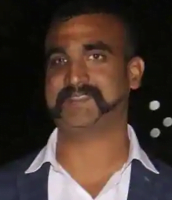 Indian Air Force Wing Commander Abhinandan Varthaman has been chosen for the first Bhagwan Mahavir Ahimsa Puraskar constituted by the Akhil Bharatiya Digambar Jain Mahasamiti.
The award which carries a cash prize of Rs. 2.51 lakh, a memento and a citation will be presented to  Abhinandan Varthaman on April 17 the Mahavir Jayanti.
Abhinandan Varthaman
Abhinandan Varthaman, a wing-commander in the Indian Air Force shot into limelight in the ongoing bilateral tensions between Indian and Pakistan aftermath of the Pulwama terror attack.
After India's airstrike aimed at destroying the Jaish-e-Mohammed camp in Balakot in Khyber Pakhtunkhwa of Pakistan, Pakistan retaliated with an intrusion into Jammu and Kashmir.
Abhinandan Varthaman was flying  MiG-21 as a part of a sortie that was scrambled to intercept an intrusion by Pakistan Air craft. In the dogfight that followed,  he crossed into Pakistan territory wherein he was struck by missiles. Later he ejected and descended safely at the village of Horran in Pakistan Occupied Kashmir around 7 km from Line of Control. He was captured by the Pakistan Military and was later handed over to India.
Month: Current Affairs - March, 2019