United Nations Statistical Commission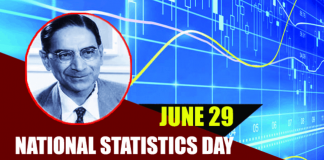 The Government of India has been celebrating National Statistics Day on June 29. This is to popularize statistics in every day life and create awareness among the public on how statistics help to frame policies. This year the GoI is ..
Tags: Mahalanobis model. • National Statistics Day • SDG • Statistics • Sustainable Development Goals
Month: Current Affairs - June, 2020
Prof. Victor Yohoi of Argentina, the founder of the 'Argentinean School' of 'Robust Statistics' was recently conferred the International Award in Statistics (2011 Mahalanobis International Award) by International Statistical Institute, The Hague, Netherlands. About the Award: The Indian Ministry of ..
Tags: C. R. Rao • Economic growth • Fellows of the Econometric Society • Fellows of the Royal Society • Indian mathematicians