Tunnel Current Affairs, GK & News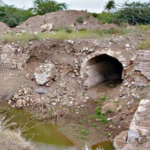 Suranga Bawadi, an integral part of the ancient Karez system of supplying water through subterranean tunnels built during Adil Shahi era in Vijayapura, is now set to get funding for restoration. A New York-based non-governmental organisation has included it in the World Monument Watch list for 2020 along with 24 other monuments from across the ..
Topics: Adil Shahi dynasty • Bijapur • Construction • Deccan Plateau • Irrigation • Monument • Qanat • Tourism in Karnataka • Tunnel • Water • Water supply • Water wells
India's longest Chenani-Nashri road tunnel that links Kashmir with Jammu will be rechristened after Bhartiya Jansangh founder Dr Shyama Prasad Mukherjee. This is 9.2 km long tunnel on NH 44 that reduces the distance between Jammu and Srinagar by 31 km. The key features of the tunnel are – It is a single-tube bi-directional tunnel, ..
Topics: Chenani • Jammu and Kashmir • Jammu Division • Jammu-Srinagar National Highway • States and union territories of India • Subdivisions of India • Syama Prasad Mukherjee • Tunnel • Zoji-la Tunnel
In Andhra Pradesh, Vice-President M Venkaiah Naidu has recently dedicated the India's longest electrified rail tunnel i.e situated between Cherlopalli and Rapuru. He also inaugurated the 112-km long electrified railway line between Venkatachalam and Obulavaripalli. The length of the electrified rail tunnel is 6.6km. The tunnel has 44 trolley refuges and 14 cross-passages in a ..
Month: Current Affairs - December, 2020
Topics: Andhra Pradesh • Civil engineering • Construction • Crossings • Engineering • Geotechnical engineering • infrastructure • New Austrian tunnelling method • Tunnel • Tunnel construction
The South Central Railway (SCR) has recently commissioned the longest electrified tunnel of 6.6 km built at a total cost of Rs 460 crore between Cherlopalli and Rapuru stations. The tunnel is part of the 113-km new railway line completed recently between Obulavaripalli– Venkatachalam – Krishnapatnam Port. The electrified tunnel is constructed in the shape ..
Topics: Civil engineering • Crossings • Tunnel
Indian Army signed a an agreement with NHPC (National Hydroelectric Power Corporation) Limited. The pact is signed to build 4 underground tunnels along China and Pakistan borders for storage of ammunition and other war-related equipment. 3 tunnels will be built along the Chinese border and one tunnel will be built along the Pakistan border. The ..
Category: Defence Current Affairs
Topics: Civil engineering • Construction • Crossings • infrastructure • National Hydroelectric Power Corporation • Tunnel