Page-2 of
Pluto Current Affairs, GK & News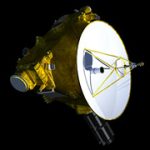 The National Aeronautics and Space Administration (NASA) has given its approval to extend New Horizons mission to investigate a mysterious object deep in the Kuiper Belt. In the extended mission New Horizons space probe will investigate a mysterious object known as 2014 MU69 located deep in the Kuiper Belt. 2014 MU69: It is an ancient ..
Month: Current Affairs - July, 2016
Topics: 2014 MU69 • Kuiper belt • NASA • New Horizon • Pluto • Science and Technology • Space exploration • Space technology
United States space scientists have discovered a 5th moon orbiting Pluto. According to NASA the irregular-shaped moon, nicknamed S/2012 for now, measures around 10 to 24 km across. Astronomers, last year found the 4th moon around the Pluto some 5 billion km away. Charon is Pluto's biggest moon which measures 1,030 kilometres across. US Naval ..
Month: Current Affairs - July, 2012
Topics: Astronomical objects • Book:Dwarf Planets of the Solar System & Their Satellites • Book:Pluto • Charon • Dwarf planet • Hydra • Minor planets • Moons of Pluto • Natural satellite • Nix • Planetary science • Pluto
2007 OR10 is the name of a trans-Neptunian object, which has been largest body in the Solar System without a name. It was discovered in 2007 by former graduate student Meg Schwamb of the California Institute of Technology. This dwarf planet nicknamed Snow White orbits at the edge of the Solar System. Roughly half the ..
Month: Current Affairs - December, 2011
Topics: Book:Solar System • Cryovolcano • Dwarf planet • Kuiper belt • Local Interstellar Cloud • Neptune • Planet • Planetary science • Pluto • Solar System • Trans-Neptunian object • Trans-Neptunian objects in fiction