Page-2 of
Persian Gulf Current Affairs, GK & News
Recently two tankers were targeted in suspected attacks near the strategic Strait of Hormuz which is a vital waterway for global oil shipments. Strait of Hormuz The Strait of Hormuz is a strait between the Persian Gulf and the Gulf of Oman. It provides for the only sea passage from the Persian Gulf to the ..
Topics: crude oil • Gulf of Oman • Iran • Iraq • Kuwait • LNG • Oman • OPEC • Persian Gulf • Saudi Arabia • Strait of Hormuz • UAE
Dr. Hema Divakar, a Bengaluru-based medical doctor, has been honoured with the 'Global Asian of the Year 2018-19' award in Dubai recently for her yeomen services and contributions to the women's healthcare ecosystem, in India. Dr. Divakar received the award at the Asian Business & Social Forum 2019 under the 'In Service of the Society ..
Topics: Countries • Dubai • Geography of Asia • Persian Gulf • United Arab Emirates • Western Asia
The World Book and Copyright Day (WBCD) is celebrated worldwide on 23rd April to pay tribute to the veteran literary figures like William Shakespeare, Miguel Cervantes and Inca Garcilaso De La Vega. It is a symbolic date in world literature. On this day, UNESCO and organisations representing publishers, booksellers and libraries select World Book Capital ..
Topics: Americas • Emirate of Sharjah • Garcilaso de la Vega • Inca Empire • Miguel de Cervantes • Persian Gulf • Reading • Sharjah • UNESCO • World Book Capital • World Book Day • Writers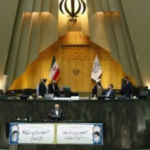 Iran's Parliament has overwhelmingly approved a bill labelling U.S. forces in the Middle East as terrorist groups. This comes days after U.S. designation of Iran's Revolutionary Guard as terrorist organisation formally took effect. The bill introduced by the Iranian Defence Minister has authorised the government to act firmly in response to "terrorist actions" by US ..
Month: Current Affairs - April, 2019
Topics: Iran • Iran Parliament • Islamic Revolutionary Guard Corps • Middle-East • Persian Gulf • US forces
The United States has recently clinched a strategic port deal with Oman that allow American ships and warplanes to take advantage of two Arabian Sea ports of Duqm and Salalah located near strategic Strait of Hormuz. The framework agreement is aimed at bolstering Omani-American military relations. With this pact, the US military will have better ..
Topics: Arabian Peninsula • Arabian Sea • Duqm • Geography of Asia • Indian Ocean • Oman • Ormus • Persian Gulf • Salalah • Strait of Hormuz • Transport in Oman • Western Asia