Orissa Current Affairs, GK & News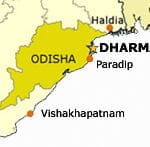 Every year, the state of Odisha celebrates Utkal Divas on April 1. The tradition of the celebration is being followed for 84 years now. Being the 9th largest state, the state is rich in mineral resources. It is a major supplier of raw materials such as coal, iron ore to several industries spread all over ..
Month: Current Affairs - April, 2020
Topics: British • Iron ore • Marathas • Naveen Patnaik • Odisha • Odisha Statehood Day • Orissa • Statehood Day
The state of Odisha celebrates Odisha Divas or Utkala Divas every year on April 1st to commemorate the state formation day. On this day 82 years ago, Orissa (now Odisha) was established as a province of British India. Odisha Timeline In 1912, Bihar and Orissa had been separated from Bengal to form the Bihar and ..
Month: Current Affairs - April, 2019
Topics: Bengal • Bihar • British India • Kalinga • Odia • Odisha • Odisha Divas • Odisha Divas 2019 • Orissa • Oriya • Sir John Austin Hubback
As per the India Human Development Survey (IHDS) survey, 4 out of 10 women in India still have no say in their marriage, 8 out of 10 need permission to visit a doctor, 6 out of 10 practise some form of head covering and the average Indian household gives over Rs.30,000 in dowry. Excerpts of ..
Month: Current Affairs - March, 2014
Topics: Assam • Current Affairs - 2017 • Current Affairs 2014 • Haryana • Kerala • Orissa • Rajasthan • Socio-Economic • Tamil Nadu
ICICI Bank Ltd. launched 'Branch on Wheels' in Odisha as part their financial inclusion plans to provide banking services in remote villages in the state which are devoid of banking facilities. ICICI Bank is the first private sector bank to launch Mobile Branch with ATM About 'Branch on Wheels' – mobile branch with an ATM. ..
Month: Current Affairs - March, 2014
Topics: Current Affairs 2014 • IBPS • ICICI Bank • IT • Odisha • Orissa
Telecom major, Vodafone India and ICICI Bank announced the launch of mobile commerce initiative called 'M-Pesa' service in Odisha. About M-Pesa service A mobile money transfer and payment service that allows customers to transfer money to any mobile phone, remit money to any bank account, make utility payments, recharge of mobile, DTH payment and earn ..
Month: Current Affairs - March, 2014
Topics: Assam • Bihar • Current Affairs 2014 • Delhi • Goa • Gujarat • Haryana • IBPS • ICICI Bank • IT • Jharkhand • Maharashtra • Maharasthra • Odisha • Orissa • Rajasthan • Uttar Pradesh • West Bengal