Uttarakhand HC declares entire animal kingdom as legal entities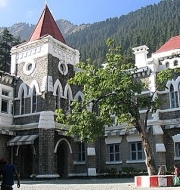 The Uttarakhand High Court has declared entire animal kingdom i.e. all animals, including avian and aquatic species as legal entities with rights, duties and liabilities of living person. The order was given by Division Bench of Justice Rajiv Sharma and Justice Lok Pal.
Background
The Division Bench of High Court was hearing PIL by Narayan Dutt Bhatt, filed in 2014 where petitioner had sought directions to restrict movement of horse carts (tongas) between India and Nepal through Banbasa in Champawat district of Uttarakhand. However, High Court had enlarged scope of petition in larger public interest to promote protection and welfare of the animals.
Court Ruling
The court ruled that entire animal kingdom, including avian and aquatic ones are legal entities and have distinct persona with corresponding rights, duties and liabilities of living person. All the citizens throughout state are hereby declared persons in loco parentis as human face for welfare and protection of animals.
It directed State Government that no animal, including horses moving between India and Nepal, carries excess weight. It also banned use of any sharp equipment throughout state to avoid bruises, swelling, abrasions or severe pain to animals.
It also directed all veterinary doctors across Uttarakhand to mandatorily treat animals brought to them by citizens of the state. If animal cannot be brought to doctor, then vet must personally visit and attend the stray cattle, or animal without delay.
Legal entity
In common law jurisprudence, there are two types of persons, natural persons or human beings and artificial person, which are also known as juristic persons, juridical entity or legal person other than natural person. Legal or juristic persons are created by law and recognised as legal entity, having distinct identity, legal personality and besides duties and rights. They include private business firm or entity, non-governmental or government organisations, trusts and societies, besides others.
Month: Current Affairs - July, 2018
Topics: Animal Cruelty • animal kingdom • Animal welfare • Environment • Legal Entity • National • Uttarakhand High Court
Latest E-Books