Proceeds from Disinvestments exceeds Target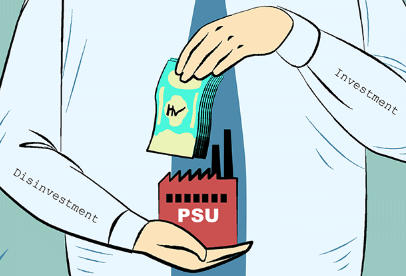 The proceeds from the disinvestments have exceeded the disinvestment target for the fiscal 2018-19 by Rs 5,000 crore taking the total proceeds to Rs 85,000 crore against the targeted Rs 80000 Cr.
Disinvestments
Disinvestment refers to the process of public asset sales by the government of India. Industrial Policy provides that in order to raise resources and encourage wide public participation, a part of the government shareholding in the public sector would be offered to mutual funds, financial institutions, general public and employees.
Disinvestments are undertaken to fulfil the objectives such as modernisation of the public sector through strengthening R & D, initiating diversification/ expansion programmes, retraining and re-employment of employees, funding genuine needs of expansion, widening the capital market basis and mitigating fiscal deficit of the government.
Financial Year: Proceeds from Disinvestment
2014-15: Rs 26,068 crore
2015-16: Rs 23,997 crore
2016-17: Rs 46,247 crore
2017-18: Rs 1,00,056 crore
This is the second highest disinvestment proceeds in a financial year and the government in fiscal 2017-18 had mopped up a little over Rs 1 lakh crore against the target of Rs 72,500 crore. The government has set a target of Rs 90000 crore for fiscal 2019-20.
Month: Current Affairs - March, 2019
Category: Economy & Banking Current Affairs - 2022
Topics: Disinvestments • Financial Institutions • fiscal deficit • Industrial Policy • Mutual Funds • PSU
Latest E-Books