Indian Army's First Green Solar Energy harnessing plant in Sikkim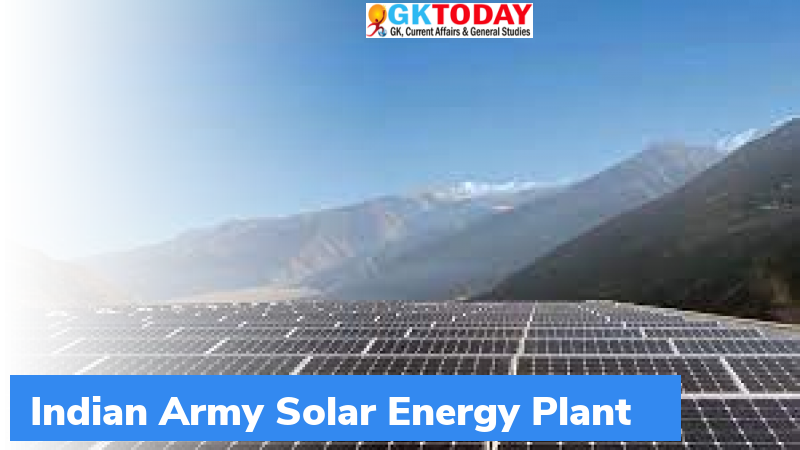 The Indian Army recently launched the first Green Solar Energy harnessing plant in Sikkim. It was launched to benefit the troops of the Indian army.
About the plant
The plant uses Vanadium based battery technology.
It was built at an altitude of 16,000 feet.
The capacity of the plant is 56 KVA.
It was completed in collaboration with IIT Mumbai.
Other green initiatives of Indian Army
The Indian Army recently (April, 2021) launched a solar power plant at Jalandhar Cantonment. It was launched on the World Earth Day. Also, it was launched as a part of the "Go Green" initiative.
The plant was constructed at a cost of Rs 5.16 crores.
It was dedicated to the military hospital in the cantonment.
The plant was set up in five acres of land.
The project has installed 3,176 solar panels of Indian origin to produce 1MW of solar energy.
It is expected that the project will produce 15 lakh units of solar power annually and will help save Rs 1 crore per year.
Vanadium
In January 2021, Vanadium was discovered in Arunachal Pradesh. This was the first discovery of Vanadium in India.
India consumes 4% of global vanadium production in the world.
It is found in sixty different minerals and ores that includes carnotite, vanadate, roscoelite, patronite.
Vanadium is used in making steel alloys, space vehicles, nuclear reactors, etc. It is also used in making girders, piston rods. Vanadium redox batteries are used in superconducting magnets. They are also used to create reliable renewable sources of energy.
The colour of Vanadium is silver. It is a transitional metal, that is, a good conductor of heat and electricity.
Month: Current Affairs - May, 2021
Category: Defence Current Affairs
Topics: IIT Bombay • Indian Army • Sikkim • Solar power • Solar Power Plants • Vanadium • World Earth Day
Latest E-Books