New Big Bank likely to emerge next year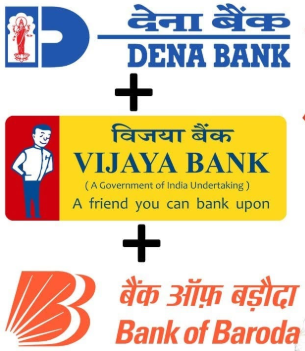 It is expected the contours for the amalgamation of Bank of Baroda (BoB), Vijaya Bank and Dena Bank would be finalised soon and it would be placed before the parliament for approval in the ongoing winter session. The decision of amalgamation was taken by the Alternative Mechanism' (AM) headed by Finance Minister Arun Jaitley, which included Railways Minister Piyush Goyal and Defence Minister Nirmala Sitharaman. The government has already set aside the funds to facilitate the amalgamation.
New Big Bank
The new entity from the amalgamation will have a combined business of Rs 14.82 lakh crore, making it the third largest bank after SBI and ICICI Bank.
The net NPA ratio of the new entity will be at 5.71 per cent. This is significantly better than the public sector bank (PSB) average of 12.13 per cent.
The Provision Coverage Ratio (PCR) would be better at 67.5 per cent against the average of 63.7 per cent and cost to income ratio would come down to 48.94 per cent as compared to average 53.92 per cent.
Capital Adequacy Ratio (CAR) at 12.25 per cent will be significantly above the regulatory requirement of 10.87 per cent.
Net NPA Ratio

Net NPA Ratio is an indicator of the overall quality of the bank's loan book. Net NPA ratio is the ratio of Net NPA to loans given.

Provision Coverage Ratio (PCR)

Provision Coverage Ratio refers to the prescribed percentage of funds to be set aside by banks for covering prospective losses due to bad loans.

Cost to Income Ratio

Cost to Income Ratio is an important parameter to determine the profitability of the banks. It is calculated by the dividing the operating expenses of the bank by the net income of the bank (Interest Income + other Income).

Capital Adequacy Ratio (CAR)

Capital Adequacy ratio is the measure of the bank's available capital. It is expressed as a ratio of a percentage of a bank's risk-weighted credit exposures.
Month: Current Affairs - December, 2018
Topics: Bank of Baroda • CAR • Cost to Income ratio • New Bank. Dena Bank • NPA Ratio • PCR • Vijaya Bank
Latest E-Books