UN Dag Hammarskjöld Medal: awarded to Late Jitender Kumar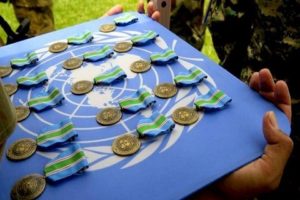 Indian peacekeeper, Late Jitender Kumar, an Indian Police Officer, is among the 119 military, police and civilian personnel who will be honoured with this year's prestigious UN medal called Dag Hammarskjöld Medal for courage and sacrifice in line of duty.
About Dag Hammarskjöld Medal
About: It is a posthumous award which is given to members of United Nations (UN) peacekeeping operations who have lost their life while serving in peacekeeping operations.
Background: It was established in 22 July 1997 by UN Security Council (UNSC) resolution 1121, adopted on occasion of 50th anniversary of peacekeeping.
The medal is named after Dag Hammarskjöld, who was the second Secretary-General of the United Nations. He died in a plane crash in 1961 while en route to cease-fire negotiations during Congo Crisis. The first Medal was presented to the family of Dag Hammarskjöld in 1998.
About Jitender Kumar
Late Indian Police Officer Jitender Kumar laid down his while serving in the United Nations Organisation Stabilisation Mission (UNOSM) in the Central African country of Congo.
He will be honoured posthumously with Dag Hammarskjold Medal on observance of International Day of UN Peacekeepers (29 May).
On behalf of the fallen Indian peacekeeper the medal would be collected by Syed Akbaruddin, India's Permanent Representative to the UN Ambassador at a solemn ceremony which will take place at the UN in New York.
India is the 4th largest contributor of uniformed personnel (Blue Helmet) to UNPKF. It is currently contributing more than 6,400 military and police personnel to UN peace operations in West Asia, Western Sahara, Congo, Lebanon, Abyei, Cyprus, Haiti, and South Sudan.