World Poetry Day observed on March 21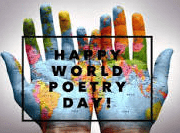 World Poetry Day is celebrated on March 21 every year across the world. During the UNESCO's session held in Paris, in 1999, it was decided that 21 March shall be celebrated as World Poetry Day.
One of the prime objectives of the Poetry Day is to support linguistic diversity through poetry and to provide opportunity to the endangered languages to be heard within their communities. The Day also encourages oral tradition of poetry recitals and teaching of poetry.
Topics: In poetry • Linguistics • UNESCO
Latest E-Books