Union Cabinet approves extension of contract with ISA for exploration of Polymetallic Nodules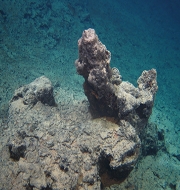 The Union Cabinet has approved the extension of contract with and International Seabed Authority (ISA) for exploration of Polymetallic Nodules (PMS).
The contract is between Union Ministry of Earth Sciences and ISA. It has been extended for a further period of 5 years (2017-22) as the earlier contract is expiring in March 2017.
What are Polymetallic Nodules?
Polymetallic nodules (PMN) are also known as manganese nodules.
They are potato-shaped, largely porous nodules found in abundance carpeting the sea floor in the deep sea of the world oceans.
Besides manganese and iron, they contain nickel, copper, cobalt, lead, molybdenum, cadmium, vanadium, titanium.
Of these metals nickel, cobalt and copper are considered to be of economic and strategic importance.
What extension of Contract means?
By extending the contract, India's exclusive rights for exploration of PMN in the allotted Area in the Central Indian Ocean Basin will continue.
It would open up new opportunities for resources of strategic and commercial value in area beyond national jurisdiction.
Further, it would provide strategic importance for India in terms of enhanced presence in Indian Ocean where other international players are also active in mineral explorations.
Background
India had signed a 15 year contract for exploration of PMN in Central Indian Ocean Basin with the ISA in March, 2002 with the approval of the Union Cabinet.
Under this contract, India is having an area of 75,000 sq km located about 2000 km away from her southern tip for exploration of PMN.
The Union Ministry of Earth Sciences is carrying out Survey and Exploration, Technology Development (Mining and Extractive Metallurgy) under PNS program through various national institutes.
About International Seabed Authority (ISA)
The ISA is an intergovernmental body that organizes, regulates and control all mineral (non-living resources) related activities in the international seabed area beyond the limits of national jurisdiction. It functions under the aegis of the United Nations Convention on Law of the Sea (UNCLOS). Presently, the ISA has 167 members and the European Union. The headquarters of ISA is located at Kingston, Jamaica.
Month: Current Affairs - September, 2016
Topics: Cabinet Decisions • Indian Ocean • Isa • Minerals • Ministry of Earth Sciences • National • Polymetallic Nodules
Latest E-Books