UNESCO names Kumbh Mela in list of Intangible Cultural Heritage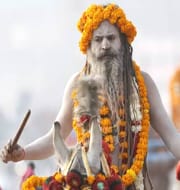 The Intergovernmental Committee for Safeguarding of Intangible Cultural Heritage under UNESCO has inscribed ´KumbhMela´ on UNESCO's Representative List of Intangible Cultural Heritage of Humanity.
The inscription of Kumbh Mela in list was undertaken following recommendation by expert body which examines nominations submitted by member countries of UNESCO during its 12th session of Committee held at Jeju, South Korea. KumbhMela is the 14th intangible cultural heritage from India to be listed in UNESCO's list.
KumbhMela
KumbhMela is held every four times every 12 years at four different locations across central and northern India. It  is the largest religious congregation and largest peaceful gathering on planet. This vast celebration attracts tens of millions of Hindu pilgrims, including mendicant nagas.
The first written evidence of the Kumbha Mela is mentioned in Bhagvat Purana. Another written evidence of Kumbha Mela is in works of Huen Tsang, who visited India in 629–645 AD, during reign of Harsha. The Samudra manthan episode also has mentioned in Bhagavata Purana, Vishnu Purana, Mahabharata, and Ramayana.
Kumbh Mela is held every third year at one of four places by rotation: Haridwar, Allahabad, Nashik and Ujjain. Thus, it is held at each of these four places every twelfth year. Ardha Kumbha Mela, which is next in sanctity, is held only at Haridwar and Allahabad.
The rivers at these four places are Ganga at Haridwar, Prayag Sangam at Allahabad, Godawari at Nashik, and Shipra at Ujjain. The largest crowd is held on Mauni Amavasya.
UNESCO's List of Intangible Cultural Heritage
The UNESCO's coveted list is made up of those intangible heritage elements that help demonstrate diversity of cultural heritage and raise awareness about its importance. The list was established in 2008 when Convention for Safeguarding of the Intangible Cultural Heritage came into effect. It includes important intangible cultural heritages worldwide. It has two parts viz. Representative List of Intangible Cultural Heritage of Humanity and List of Intangible Cultural Heritage in Need of urgent Safeguarding.
List of Intangible Cultural Heritage of Humanity from India
Koodiyattam: Sanskrit Theatre of Kerala.
Mudiyett: theatre ritual of Kerala.
Tradition of Vedic Chanting.
Kalbelia: folk songs and dances of Rajasthan.
Ramlila: Traditional Performance of the Ramayana.
Sankirtana: singing, drumming and dancing ritual of Manipur.
Ramman: religious festival and ritual theatre of Garhwal Himalayas.
Traditional brass and copper craft of utensil of Thatheras: Punjab.
Chhau dance: classical Indian dance originated in the eastern Indian states.
Buddhist chanting of Ladakh: recitation of sacred Buddhist texts in Ladakh region of Jammu and Kashmir.
Yoga
Category: Art & Culture Current Affairs
Topics: Art and Culture • Intangible Cultural Heritage list • KumbhMela • National • UNESCO
Latest E-Books