SpaceX successfully launches Dragon Cargo capsule using Falcon 9 rocket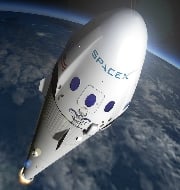 SpaceX successfully launched its Dragon Cargo capsule filled with supplies for astronauts aboard the International Space Station (ISS).
The Dragon Cargo capsule was launched using SpaceX's workhorse Falcon 9 rocket from Cape Canaveral, Florida.
After successful take off, the Falcon 9 rocket separated from cargo after sending in into orbit. Then the first stage of the rocket successfully landed back on the solid ground in Cape Canaveral at the NASA facility.
Key Facts
This is SpaceX's second attempt at delivering the docking port after Falcon 9 rocket exploded two minutes after liftoff in 2015.
The launch was resupply mission for NASA and the capsule was carrying equipments that were lost in 2015 explosion.
The capsule is carrying about 23000 kilograms of cargo, including ferrying instruments to perform the first-ever DNA sequencing in space.
It was also carrying a critical space station docking adapter for commercial spacecraft. The Dragon capsule will reach the ISS on 20 July 2016.
It will leave the space station on August 29, 2016 and shall bring 3,300 pounds of hardware, science, crew supplies and spacewalk tools back to Earth.
Dragon Cargo capsule: It is a SpaceX's free-flying spacecraft. It is designed to deliver both people and cargo to orbiting destinations. In 2012, the capsule had created history by becoming the first commercial spacecraft in space history to deliver cargo to the ISS and safely return cargo to Earth. Earlier all space deliveries were done by government space agencies. Currently Dragon Cargo capsule is only spacecraft in operation capable of returning significant amounts of cargo to Earth
Falcon 9 rocket: It is SpaceX's two-stage-to-orbit launch vehicle designed and manufactured by Space Exploration Technologies Corporation (SpaceX), a private space transportation company based in Hawthorne, California.
Month: Current Affairs - July, 2016
Topics: Dragon Cargo capsule • Falcon 9 rocket • International • International Space Station • NASA • Science and Technology • Space technology • SpaceX
Latest E-Books