Smooth-coated otter sighted for first time in Krishna sanctuary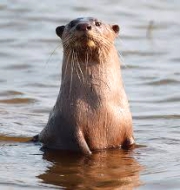 Smooth-coated otter was sighted for the first time in the mangrove forest near the Krishna wildlife sanctuary (KWS) in Krishna district, Andhra Pradesh.
In all, seven otters were sighted in the mangrove forests and brackish water channels of Eelachetladibba and Lankevennedibba and other areas outside the KWS. The presence of the otter is a key indicator for rise of the mangrove cover in the KWS.
About smooth-coated Otter
The smooth-coated Otter (Lutrogale perspicillata) is a species of otter, the only extant representative of the genus Lutrogale. Otter is a carnivorous mammals.
The fur of this species is smoother and shorter than that of other otters. It is distributed throughout South Asia and South East Asia.
The otter lives in rivers, lakes, peat swamp forests, mangroves and estuaries. It uses swamps as natal den sites and nursery during the breeding season in early winter.
Otters are social and hunt in groups. The male otter is polygamous and mates with up to the four females.
It has been categorised 'vulnerable' in the red data book of International Union for Conservation of Nature (IUCN).
Month: Current Affairs - October, 2016
Topics: Andhra Pradesh • Environment • Krishna sanctuary • Smooth-coated otters
Latest E-Books