Scientists discover New Frog Species in Assam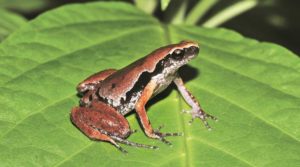 A team of scientists from Delhi University (DU) and Wildlife Institute of India (an autonomous institution under Union Ministry of Environment Forest and Climate change), in collaboration with researchers from the United States and Indonesia, have discovered a new species of 'Paddy Frog' from Northeast India, primarily in Assam.
Key Highlights
Background:
The first known species of genus Micryletta was originally described from island of Sumatra (in Indonesia). As of now, there are only 4 recognised species in this group and newly discovered Micryletta aishani becomes the 5th.
Nomenclature: The newly discovered species has been named Aishani, which is derived from Sanskrit word 'aishani' or aisani meaning Northeast.
Scientists Involved: The study was conducted by Sonali Garg and S D Biju (of DU), Abhijit Das (of Wildlife Institute of India) Eric N Smith (from University of Texas, US) and Amir Hamidy (from Indonesian Institute of Sciences). Their study was published in PeerJ, a peer-reviewed journal.
Key Findings
The DNA samples analysed of this species suggested that other undescribed species belonging to this genus could be existing in regions such as Laos, Thailand, and Vietnam.
Features: The frog belongs to genus Micryletta, (a small genus of microhylid frogs). The microhylid genus is a group of narrow-mouthed frogs that are more commonly known as paddy frogs and are primarily and widely distributed in Southeast Asia (SEA).
Characteristics: This new species strikingly differs from other narrow-mouthed paddy frogs. Its characteristics includes- its back is reddish-brown in colour, on lateral sides it has prominent dark streaks and ash-grey mottling, shape of snout (nose and mouth) is unique, and web on its feet is absent.
Habitat: Micryletta aishani is currently endemic to Northeast India but it could be present in neighbouring regions of Bangladesh and Myanmar also. The species was discovered from a degraded forest area in Cachar district of Assam but as per the study says it is also present in Tripura and Manipur.
Also, it is likely to be more widely distributed in Northeast India, particularly Indo-Burma biodiversity hotspot region (that lies south of Brahmaputra River).
To the surprise of researchers the new species is not found far from human habitations.
Way Ahead: But despite new discoveries, the actual number of frog species in Northeast India is much higher than the current estimates.
Month: Current Affairs - June, 2019
Category: Environment Current Affairs
Topics: Aishani • Delhi University • genus Micryletta • Indo-Burma Biodiversity Hotspot • Micryletta aishani • New Frog Species in Assam • PeerJ • Union Ministry of Environment Forest and Climate change • Wildlife Institute of India
Latest E-Books