Rapid spread of Dengue fever in Telangana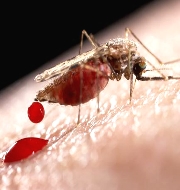 In the last 10 days, around 1,700 cases of Dengue were reported in multiple districts of Telangana. The state received rains for few days that washed away the mosquito larvae collected in dumps and stagnant water.
Causes
Changes in rainfall pattern, rise in humidity level and long spell of warmer temperatures are the main reasons for the recent outspread of Dengue in Telangana. The state is urbanizing at a faster rate after the partition, the construction projects like Amaravati (the capital city being built) have increased. The state Government estimates over 50% of the Telangana population will reside in urban areas by 2023
With unplanned construction projects dumping of discarded objects and stagnation of water have made Telangana conducive for spread of dengue and Chikungunya.
What is Dengue?
Dengue is a vector borne disease transmitted by female Aedes mosquito according to WHO. It is caused by the Dengue virus that belongs to the Flavivirus.
Strains of Dengue
There are 4 strains of Dengue namely DEN – 1, DEN – 2, DEN – 3, DEN – 4. When a person becomes infected with one strain and treated, he becomes immune to that particular strain of virus. However, there are possibilities for him to get infected by other strains.
Occurrence
The virus is present in India, south east Asia, China, South America, Africa, Pacific Islands, Mexico and Caribbean. At the rest of the world, Dengue has been eliminated.
Measures of India to control Dengue
The disease is monitored, controlled and treated under the program National Vector Borne Disease Control Program. The program covers the following

National Anti-Malaria program
Japanese Encephalitis Control Program
Kala – Azar Control Program
National Filaria Control Program
Dengue and Dengue Hemorrhagic fever

National Dengue Day is observed on May 16 every year by the Ministry of Health and Family Welfare.
Month: Current Affairs - October, 2019
Topics: Amaravati • Dengue • Health • Telangana • Urbanization • WHO
Latest E-Books