Queen Victoria's last letter to India showcased at Victoria Memorial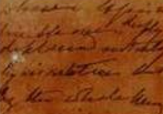 Queen Victoria's last letter to India which was written on December 14, 1900 (116 years ago) has been showcased for the first time at the Victoria Memorial in Kolkata. The three-page handwritten letter bearing the Royal Seal was written nearly a month before her death. Queen Victoria passed away on January 22, 1901. The letter contains Queen Victoria's reply to the then Viceroy, Lord Curzon, who had conveyed his sympathies on the death of one of her soldier grandsons, Prince Christian Victor, the eldest son of the third daughter of Queen Victoria. Prince Christian died on October 29, 1900 during the Second Boer War.
After Queen Victoria's death in 1901, King George V laid the foundation stone for the Victoria Memorial on 1906. It was opened to the public in 1921.
Topics: George Curzon, 1st Marquess Curzon of Kedleston • Government of the United Kingdom • Heads of state • House of Hanover • Leaders • Prince Christian Victor of Schleswig-Holstein • Queen Victoria • Victoria Memorial, Kolkata
Latest E-Books