'National portal of Project Elephant' launched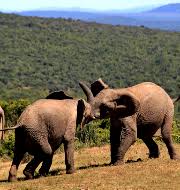 The Union Ministry of Environment, Forests and Climate Change has launched National Portal on Human-Elephant conflict situation so that it can resolve the dispute the human and the elephant. The portal is aimed at collecting information on a regular basis in order to manage the conflicts between humans and elephants.
Details of the Portal
The National Portal has been launched on the occasion of the World Elephant Day on August 12. It is celebrated every year to create elephant conservation and share knowledge for better protection of wild elephants. This portal is going to help in the collection of data for analysis and inferring important outcomes based on that data.
Status of Elephants in India
In India, the elephant is the national heritage animal of the country. The Indian Elephants come under Appendix I of the Convention of Migratory Species. Elephants have been accorded the highest possible protection under the Indian wildlife law through its listing under Schedule I of the Wildlife Protection Act, 1972.
Project Elephant
It was launched in 1992 by the government of India in order to provide the financial and technical support to the wildlife management effort by states for their free-ranging populations of wild Asian Elephants. The project has various objectives such as:
To protect elephants, their habitat and corridors
To address issues of man-animal conflict
The welfare of captive elephants
World Elephant Day
It is an international annual event observed on August 12 dedicated to the preservation and protection of the elephants in the world. It was first conceived in 2011 by two Canadian filmmakers.
Month: Current Affairs - August, 2020
Category: Environment Current Affairs
Topics: National Portal • Project Elephant • World Elephant Day
Latest E-Books