Current Affairs - August, 2012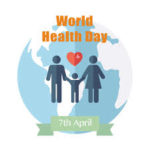 Every year the World Health Day is celebrated by the World Health Organization on April 7. This year, the World Health Day is celebrated under the following theme Theme: Building a fairer, healthier World for everyone World Health Day The World Health Day is celebrated on April 7 as the World Health Organisation held its ..
Month: Current Affairs - August, 2012
Category: Important Days & Events Current Affairs
Topics: World AIDS Day • world antimicrobial awareness week • World Chagas Disease Day • World Health Day • World Health Organisation (WHO) • World Hepatitis Day • World Immunization Week • World Malaria Day • World No Tobacco Day • World Tuberculosis Day
Neil Armstrong, the first human being to walk on the moon passed away. He was the commander of the NASA's Apollo 11 space flight on July 20, 1969. Armstrong's second and last spaceflight was as mission commander of the Apollo 11 moon landing mission on July 20, 1969. On this mission, Armstrong and Buzz Aldrin descended to the lunar surface ..
Month: Current Affairs - August, 2012
Topics: American people of German descent • Apollo 11 • Apollo program • Buzz Aldrin • Civil awards and decorations of the United States • In spaceflight • Little West • Moon landing • Neil Armstrong • Spaceflight • Tranquility Base
Twitter shunned 6 accounts similar in appearance to the Prime Minister's Office account. The action by twitter came after the Department of Information Technology sent an ultimatum to the social media site for failing to block the morphed and inflammatory web pages. These web pages carried inflammatory contents uploaded to instigate disturbance in the country. ..
Month: Current Affairs - August, 2012
Topics: Block • Digital media • Operating systems • Social media • Social networks • Software • South of Market, San Francisco • Text messaging • Twitter
Forbes magazine's has ranked Sonia Gandhi at number 6 in the list of the world's 100 most powerful women. The other four Indian women in the list with their respective ranks are: Indira Nooyi (12th ), Padmashree Warrior (58th ), Chanda Kochar (59th ) Kiran Mazzomdar Shaw (80th ). Top Rankers: German Chancellor Angella Markel ..
Month: Current Affairs - August, 2012
A species of rat that doesn't chew was discovered in Indonesia. Out of 2200 known species of rodents, this is the only one which lacks molars and instead has bicuspid upper incisors. These Rats species were found in the mountainous rainforest of southern Sulawesi Island on Mount Latimojong and 100 km northwest on Mount Gandangdewata ..
Month: Current Affairs - August, 2012
Topics: Geography of Asia • Hyorhinomys stuempkei • Mammals • Mount Latimojong • Old World rats and mice • Paucidentomys • Rodent • Southeast Asia • Sulawesi
South Africa after defeating England 2-0 in the Test-match series grabbed the spot of the World's Number One Test Cricket team. South Africa thus replaced England to take the top position. The current rankings: 1.      South Africa 2.      England 3.      Australia 4.      Pakistan 5.      India 6.      Sri Lanka 7.      West Indies 8.      New Zealand 9.       Bangladesh
Month: Current Affairs - August, 2012
Topics: Cricket • In cricket • International cricket • Test cricket • White South African people • Wisden Cricketers of the Year