Lok Sabha passes Negotiable Instruments (Amendment) Bill, 2015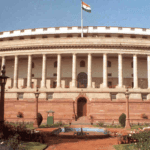 Lok Sabha has passed Negotiable Instruments (Amendment) Bill 2015 by a voice vote.
The bill seeks to amend The Negotiable Instruments Act, 1881 in order to make cheque-bounce filing of cases more convenient for check payees (person who receives the cheque).
The bill also seeks to replace an ordinance which was re-promulgated in this regard earlier in May 2015 after it was not passed in Rajya Sabha, though it was passed by the Lok Sabha in the May 2015.
Key features of Bill
Adds provision to specify the territorial jurisdiction of the courts in cases related to bouncing of cheques which was not present in the parent Act.
It says that cases in this regard need to be filed only in a court in whose jurisdiction the bank branch of the payee lies.
It also adds provision related to more than one case is filed against the same person before different courts for bouncing of cheques.
In this matter, the case will be transferred to the court that has appropriate jurisdiction. The bill also amends the definition of cheque.
Redefines cheque in the electronic form which is signed in a secure system with a digital signature or using electronic system and drawn in electronic medium using any computer resource.
It should be noted that, these amendments to parent Act seek to overturn a Supreme Court's earlier unfriendly check payee ruling of August 2014. The ruling given by court had mentioned that cases on the persons who have defaulted their cheque payments could only be filed in courts under which jurisdiction of the bank account of the accused fell.
About Negotiable Instruments Act, 1881
The Act defines bills of exchange, promissory notes, cheques and creates penalties for issues such as bouncing of cheques. It also specifies circumstances under which complaints for cheque bouncing can be filed.
Month: Current Affairs - August, 2015
Topics: Banking • Bills and Amendments • Current Affairs 2016 • Lok Sabha
Latest E-Books