Government calls for self-reporting by attendees of the Tablighi Jamaat event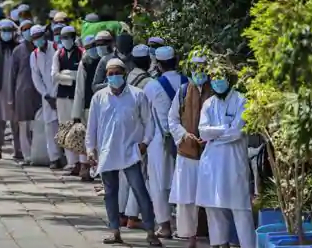 More than 200 people out of the 4,000 people who had attended the Tablighi Jamaat event in Delhi have tested positive for COVID-19. The government has asked the attendees to self-report to contain the sudden spike in cases.
About Tablighi Jamaat
The Tablighi Jamaat is a proselytising movement that literally means 'a society for spreading the faith'. It is a Sunni Islamic missionary movement, headquartered in Delhi at Markaz Nizamuddin. It encourages ordinary Muslims to revive their faith and conform to the religious practices with respect to rituals, dress and behaviour.
Establishment
The Tablighi Jamaat was established in 1927 by an Islamic scholar, Maulana Muhammad Ilyas Khandhalaw, in Mewat. He is noted for his efforts to bring Meo Muslims back into traditional Islamism and training them before sending them to establish a network of mosques and madrassas in the Mewat region, in present-day Haryana.
Principles of Tablighi Jamaat
The movement is based on 6 principles:
Kalimah: an article of faith by which the followers accept that Allah is the only God and that Prophet Muhammad is his messenger.
Salaat: the follower prays 5 times every day.
Ilm and dhikr: conduction of sessions in which the congregation listens to the imam's preaching, prays, recites from the Quran, reads the Hadith, dine, etc. to foster a sense of community.
Ikram-i-muslim: honourable treatment of fellow Muslims.
Ikhlas-i-niyat: sincerity of intention.
Dawat-o-tabligh: proselytization.
Category: Art & Culture Current Affairs • Persons in News • Places in News Current Affairs • States Current Affairs
Topics: COVID-19 • Islam • Persons in News • Public health • Tablighi Jamaat
Latest E-Books