Gambia: President Jammeh rejects results of Presidential election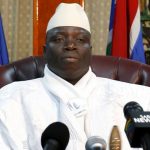 President Yahya Jammeh has rejected the results of the election wherein he had lost to the leader of the opposition Adama Barrow. The surprising announcement came only after a few days the President had publicly conceded defeat to Barrow. Jammeh's acceptance had led to far spread celebrations across the country as people rejoiced ending of a government which had always been accused by the human-rights groups of detaining, torturing and killing of political opponents.
President Jammeh in a latest address has rejected the outcome of the election and blamed serious irregularities in the whole electoral process. He also insisted for fresh and fair elections to be held by an independent election commission.
The announcement by President Jammeh has mounted troubles for the new Barrow administration which is already facing problems of taking on reins of power and also dealing with army which has been loyal to the previous President since last two decades.
The official figures had given Barrow 43.29 percent votes as against Jammeh who was able to bag only 39.64 percent votes. The overall turnout in the elections was only 59 percent. The whole series of events have left Gambians worried.
Topics: Adama Barrow • Africa • Countries • Jammeh • The Gambia • United Nations Security Council Resolution • Yahya Jammeh
Latest E-Books