Central Government liberalises single-brand retail norms for non-resident entities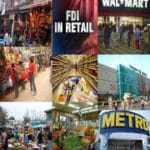 Now non resident single-branded retailers in India can operate their own outlets can franchise their stores and can even opt for wholesale business as per central government's new notification.
These single-brand retailers can opt for above said trading options only when they do business through subsidiaries in India or form a joint venture with Indian entity.
Central government allowed single-brand retailers because the proceeds from franchise business will come into the current account while proceeds from FDI will be accounted in the capital account which does not violates rules set for non resident entities doing business in India.
Central government norm of 30 percent input sourcing from Indian MSEs or cottage industries may be relaxed for all non-resident entities who are involved in FDI beyond 51 percent.
Implications of sourcing norms:
The norm of 30 percent sourcing was set by government to generate employment when non-resident entities set their retail outlet in India.
This norm will generate jobs but will also create concern to the niche products of retailers due to lack of trained labours or the inputs in India.
In order to generate job and maintain quality of the product the non-resident retailers can opt for specialised manpower training by setting centres of excellence (CoEs) through corporate social responsibility (CSR) program.
Note: At present there is 100 per cent FDI allowed in single-brand retail trading and require prior approval from government for the proposals beyond 49 per cent FDI.
Month: Current Affairs - August, 2015
Topics: Business • FDI • India • Single-retail store
Latest E-Books