Bulletin: Cabinet approved new initiative to control FMD and Brucellosis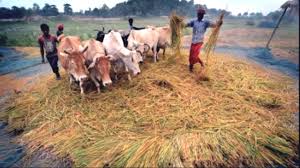 Union Cabinet has approved new initiative (scheme) to control Foot and Mouth Disease (FMD) and Brucellosis to support the livestock rearing farmers and improve the health of animals.
Key Features of Scheme
Objective: This initiative aims to fully control these diseases amongst livestock in the country in next five years and subsequently eradicate these diseases.
Cabinet has cleared a total outlay of Rs. 13,343 crores for this scheme and entire cost will be now borne by Central Government.
In case of FMD: It envisages vaccination coverage to 30 crore bovines (cows-bulls and buffaloes) and 20 crore sheep/goat and 1 crore pigs at six months' interval along with primary vaccination in bovine calves.
Brucellosis control programme: It will extend to cover 100% vaccination coverage of 3.6 crore female calves.
Significance: It will benefit crores of livestock rearing farmers and improve health of animals.
Threat of FMD and Brucellosis
These diseases are very common amongst the livestock – cow-bulls, buffaloes, sheep, goats, pigs etc. If cow/buffalo gets infected with FMD, it results in milk loss is upto 100% which could last for four to six months.
In case of Brucellosis milk output reduces by 30%, during entire life cycle of animal. It also causes infertility amongst animals. It can also be transmitted to the farm workers and livestock owners. Both of these diseases have direct negative impact on trade of milk and other livestock products.
Month: Current Affairs - June, 2019
Category: Government Schemes Current Affairs
Topics: Agriculture • Brucellosis • Brucellosis control programme • farming • FMD • Foot-and-mouth disease • Government Schemes • Indian Livestock • Livestock Rearing
Latest E-Books