Article 35-A: SC adjourns hearing by 3 months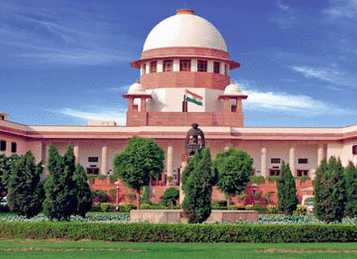 The Supreme Court has adjourned the hearing of plea challenging Article 35A of the Constitution by three months. The apex court's order came after it was told by Centre that government has appointed a representative (interlocutor) to hold talks with all stakeholders to resolve Kashmir issue.
The court was hearing on batch of four petitions demanding scrapping of Article 35A on various grounds. The main petition was filed by Delhi-based NGO in 2014. Three more petitions were also filed but were later clubbed with main one.
What is Article 35-A?
Article 35A of the Constitution empowers J&K legislature to define permanent residents (PR) of state. It was added through Constitution (Application to Jammu and Kashmir) Order, 1954 issued under Article 370 of Constitution by the President of India and not by amending constitution under Article 368.
The PR law enacted by J&K legislature in pursuance of Article 35A replicates state subject law promulgated by Dogra king Maharaja Hari Singh in 1927 following a strong campaign by Kashmiri Pandits, who had opposed to hiring of civil servants from Punjab because it affected their representation in administration.
Permanent Residents
The J&K Constitution adopted on November 17, 1956 defines Permanent Resident as person who was state subject on May 14, 1954, or who has been resident of state for 10 years and has lawfully acquired immovable property in state. It only empowers J&K legislature to alter definition of PR only through law passed by two-thirds majority.
The provision of Permanent Resident bars Indian citizens, other than permanent resident of J&K, from settling in state, acquiring immovable properties, seeking employment or undertaking any trade or business if state makes any law to that effect and it cannot be challenged before any court.  It also denies property rights to woman who marries a non-permanent resident and her children.
Petitions demanding scrapping of Article 35A
The petitioners have challenged Article 35A on ground that it can only have been introduced through Constitutional amendment under Article 368 and not through a Presidential Order under Article 370.
They say that Article 35A is against very spirit of oneness of India as it creates a class within a class of Indian citizens. It restricts citizens from other States from getting employment or buying property within J&K, thus is a violation of fundamental rights under Articles 14, 19 and 21 of the Constitution.
One  petition also held that Article 35A is gender-biased and also against Article 14 of the Constitution as it denies property rights to J&K permanent resident woman who marries a non-resident while a man who marries outside state will continue to enjoy his rights.
Month: Current Affairs - October, 2017
Topics: Article 35A • J&K Permanent Residents • Jammu and Kashmir • National • Supreme court
Latest E-Books