2018 Pulitzer Prizes winners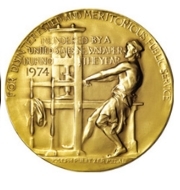 The 2018 Pulitzer Prizes were awarded by Pulitzer Prize Board for work during 2017 calendar year. In Journalism, New York Times won most awards of any newspaper, with three, bringing its total to 125 Pulitzer Prizes. The New York Times and The New Yorker have jointly won the Pulitzer Prize, in the Public Service category for long-running Harvey Weinstein saga of sexual harassment and abuse in Hollywood. In Letters, Drama & Music, Andrew Sean Greer's comic novel Less won best Fiction award.
List of 2018 Pulitzer Prize Winners
Journalism
Public Service: New York Times.
Breaking News Reporting: Staff of The Press Democrat, Santa Rosa, Calif.
Investigative Reporting: The Washington Post
Explanatory Reporting: The Arizona Republic and USA Today Network.
Local Reporting: The Cincinnati Enquirer Staff
National Reporting: New York Times and Washington Post
International Reporting: Clare Baldwin, Andrew R.C. Marshall and Manuel Mogato of Reuters
Feature Writing: Rachel Kaadzi Ghansah, freelance reporter, GQ
Commentary: John Archibald of Alabama Media Group, Birmingham, Ala.
Criticism: Jerry Saltz of New York magazine
Editorial Writing: Andie Dominick of The Des Moines Register.
Editorial Cartooning: Jake Halpern, freelance writer and Michael Sloan, freelance cartoonist, New York Times.
Breaking News Photography: Ryan Kelly of The Daily Progress
Feature Photography: Photography Staff of Reuters
Letters, Drama & Music
Fiction: Less, by Andrew Sean Greer.
Drama: Cost of Living, by Martyna Majok.
History: The Gulf: The Making of an American Sea, by Jack E. Davis (Liveright/W.W. Norton).
Biography or Autobiography: Prairie Fires: The American Dreams of Laura Ingalls Wilder, by Caroline Fraser
Poetry: Half-light: Collected Poems 1965-2016, by Frank Bidart.
General Nonfiction: Locking Up Our Own: Crime and Punishment in Black America by James Forman Jr.
Music:, by Kendrick Lamar
Pulitzer Prize
The Pulitzer Prize is an annual award for achievements in newspaper, magazine and online journalism, literature, and musical composition in United States. It was established in 1917 by provisions in will of American-Hungarian newspaper publisher and master of yellow journalism Joseph Pulitzer. The award is administered by Columbia University in New York City. Prizes are awarded yearly in 21 categories. In 20 of the categories, each winner receives certificate and US$15,000 cash award. The winner in the public service category of the journalism is awarded a gold medal.
Month: Current Affairs - April, 2018