Foreign Policy
April 1, 2017
Foreign policy of Barack Obama has been mainly known for the two main principles that he followed: Firstly, military rearranging and the improvised burden-sharing scheme with the allies and partners; Secondly, the offer of dialog for it enemies like Cuba or Iran. The strategic focus has now...
October 16, 2016
After the 1989 elections, a coalition third front government had come to power in centre with external support of BJP and Left. This government was led by Prime Minister VP Singh. The first major decision of VP Singh government was to withdraw the Indian Peace Keeping Force...
May 20, 2016
India and Japan are discussing to collaborate on infrastructure projects in the Andaman and Nicobar Islands. The first project under discussion is regarding a 15 MW diesel power plant that is proposed to be built on South Andaman Island. This proposal has been submitted to the Japanese...
October 20, 2015
Power has always been the central point in all security studies in international relations. Power is the ability to achieve one's goals or capacity to influence the decision of others to get favourable outcomes. Nations have made use of both hard power i.e. use of force and...
October 5, 2015
India's formal cooperation with US in the area of defence started in January 1995, when the Agreed Minute on Defense Relations between the two nations was signed. This led to the establishment of a Defence Policy Group (DPG). Defence Policy Group worked as apex institutional dialogue mechanism...
June 23, 2015
India and the U.S. share common ground at the level of democratic ideologies, their economies and problems faced due to terrorism. At present, the two countries have wide scope to engage in 5-T areas viz. Tourism, Trade, Technology, Tradition and Talent.  There is scope in future agreements...
June 10, 2015
In 2005, India and USA had agreed to work towards full civil nuclear cooperation and strengthen the nuclear non proliferation regime. US agreed to provide India access to the nuclear reactor building technology but it was on some conditions. One such condition was that India will need...
June 10, 2015
Historically, the relations between India and US have alternative trends of warmth and thaw in bilateral relations. Several factors that undermined the relation of India US were as follows: India-Pakistan Relations was one of the important barometers of relations of either country with United States. Successive American...
March 1, 2015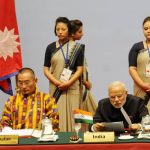 What are the challenges to India's engagement with its neighbors in the present geopolitics in Asia? How strengthening the SAARC would help India emerge strong in the region?
January 28, 2015
Rohingyas are the ethnic minority in Rakhine state of Myanmar. These people follow Islam religion. Rohingya are termed as one of the most persecuted minority in the world by UN (United Nation). Their numbers is around 800,000 in Myanmar. Around 1 Lakh of these are living in...
Advertisement