Page-3 of
War in Afghanistan Current Affairs, GK & News
India has been ranked 136th among 163 countries in Global Peace Index 2018 due to a reduction in the level of violent crime driven by increased law enforcement. The Index is prepared by Sydney-based international think-tank Institute for Economics and Peace (IEP). The report provides a comprehensive analysis on the state of world peace. It ..
Topics: Concepts • Global Peace Index • Institute for Economics and Peace • Military history by country • Peace • Peace and conflict studies • War in Afghanistan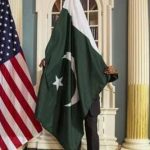 A defence bill that pledges $900 million as assistance has been passed by the US House of Representative. A substantial amount of it will depend on the certification by Pentagon that Pakistan has undertaken apparent steps against the dreadful Haqqani network. The bill has an upper limit of the reimbursement amount of $1.1 billion, out ..
Topics: Bilateral relations of Pakistan • Government of Pakistan • Haqqani • Haqqani network • Politics by country • Taliban • War in Afghanistan • Waziristan
US, Pakistan signed NATO Supply Agreement on transporting supplies for NATO troops in Afghanistan through Pakistan. As per the agreement, the US will give $ 1.1 billion aid to Pakistan for fighting terrorists within its borders. The agreement will expire by the end of 2015. Core of the agreement: Bars Transportation of arms and ammunition ..
Month: Current Affairs - August, 2012
Topics: Countries • International Relations • Military • NATO • NATO attack in Pakistan • Pakistan • War in Afghanistan • War in North-West Pakistan • War on Terror
International donors pledged $16 billion development aid for war-torn Afghanistan over the next 4 years, when most NATO-led foreign troops will leave the country. Tokyo Conference: About 70 countries and organizations attended the one day Tokyo conference in Tokyo, Japan which was aimed at setting aid levels for the crucial period through and beyond 2014, ..
Month: Current Affairs - July, 2012
Topics: Afghanistan • Aid • Countries • Decades • Development aid • International Conference on Afghanistan, London • International Relations • Units of time • War in Afghanistan • Withdrawal of U.S. troops from Afghanistan
Afghanistan and Norway gave final shape to the draft of the Strategic Partnership Agreement (SPA) b/w the two countries. The draft of the agreement is ready for signature and the two countries will ink it in September 2012. Afghanistan has already inked SPAs with the US, Britain, India, Germany, France and Italy. China is also ..
Month: Current Affairs - June, 2012
Topics: Afghanistan • Countries • Geography of Asia • In Afghanistan • Ink • Military history by country • War in Afghanistan