Rugby football Current Affairs, GK & News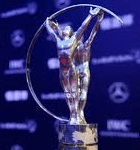 New York- based Social service organisation 'South Bronx United' was seen in news recently, as it was announced as the recipient of the 2020 Laureus Sport for Good Award. It is a programme, which use 'Football' as a tool of social transformation, to change the lives of youth from marginalized communities in New York. Famous ..
Topics: Football • Rugby football • Social groups
The South African team "Springboks" has won the 3rd edition of Rugby World Cup 2019. In the final, they defeated England at International Yokohama Stadium in Yokohama, Japan. With this win, Springboks became the 2nd team after New Zealand to win three World Cup titles.
Topics: Kitch Christie • Rassie Erasmus • Rugby football • Rugby union • South Africa national rugby union team • White South African people
France will host the 2023 Rugby World Cup , according to the global governing body "World Rugby". The country beat strong bids by South Africa and Ireland. Interestingly, the 2023 World Cup will take place in the year of the 200th anniversary of the legendary 'invention' of the sport by William Webb Ellis.The Rugby World ..
Topics: Rugby football • Rugby union • Rugby World Cup • Rugby World Cup bids • Sports • Team sports • World Cup • World Rugby