Rosatom Current Affairs, GK & News
India and Russia have stepped up their cyber security cooperation in the backdrop of cyber-attack on Kudankulam nuclear power plant built by global nuclear major Rosatom.  Indian authorities have appraised Russia that necessary steps have been taken to prevent similar incidents in future on the Indo-Russian joint venture. On the sidelines of the BRICS summit in Brasilia, ..
Topics: A. Gopalakrishnan • BRICS • Foreign relations • Foreign relations of India • International Relations • Koodankulam • Kudankulam Nuclear Power Plant • Politics by country • Rosatom • Tirunelveli
Russia launched world's first floating nuclear reactor called Akademik Lomonosov, sending it on epic journey across the Arctic. It was launched and loaded with nuclear fuel from Arctic port of Murmansk for its 5,000 kilometre voyage to Pevek in northeastern Siberia. On arriving in Pevek, it will replace local nuclear plant and closed coal plant. ..
Month: Current Affairs - August, 2019
Category: Science & Technology Current Affairs
Topics: Akademik Lomonosov • Artic region • Chernobyl on ice • floating nuclear reactor • Nuclear technology • nuclear Titanic • Rosatom • Russia • World's first
Russia has recently launched the third and final Project 22220 LK-60Ya-class nuclear-powered icebreaker – the Ural – at the Baltic Shipyard in St Petersburg to open up Arctic shipping routes.The ship is one of a trio that when completed will be the largest and most powerful icebreakers in the world. It is part of an ..
Topics: Arctic policy of Russia • Arctic resources race • Arktika • Arktika-class icebreaker • Icebreakers • Nuclear-powered icebreaker • Project 22220 icebreaker • Rosatom • Ship names • Ships • Sibir • Ural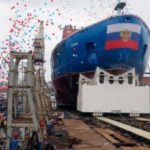 Russia recently launched nuclear-powered Arctic icebreaker named 'Ural' at Baltic Shipyard in St. Petersburg. The move is to tap commercial potential of Arctic Ocean. Key Highlights Background: Russian President Vladimir Putin announced in April 2019 that Russia will step up construction of icebreakers with aim of significantly boosting freight traffic along its Arctic coast. About: ..
Month: Current Affairs - May, 2019
Topics: Arctic Oil Potential • Arktika (Arctic) • Baltic Shipyard in St. Petersburg • Bering Strait • Northern Sea Route (NSR) • Nuclear-powered Arctic icebreaker • Rosatom • Russian President Vladimir Putin • Sibir (Siberia) • Ural
Russian state-run atomic energy corporation Rosatom has successfully tested the world's first Floating Nuclear Power Plant (FNPP) – Akademik Lomonosov. The FNPP has a capacity of 70MW and is equipped with two reactors of 35MW each. It has an operational life span is 40 years, with the possibility of being extended up to 50 years. ..
Topics: Akademik Lomonosov • Bilibino • Bilibino Nuclear Power Plant • Institute of Physics and Power Engineering • Nuclear power stations • Nuclear technology • Rosatom • Russian floating nuclear power station • Science and technology in Russia