Ranjit Singh Current Affairs, GK & News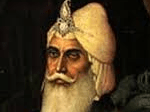 In a recent poll conducted by 'BBC World Histories Magazine', 19th century ruler of the Sikh Empire in India, Maharaja Ranjit Singh has been named 'Greatest Leader of All Time'. The Indian leader was praised for creating a new tolerant empire. He was followed by the African Independence Fighter Amílcar Cabral. Britain's former Prime Minister ..
Topics: Lincoln • Ranjit Singh • Sikh Empire
On February 23, the Director General of National Archives of India (NAI) – Pritam Singh launched a Book reading series -"Archives Reads" in New Delhi to showcase importance of archival records. This Book Reading Series commenced with the book titled "Hari Singh Nalwa: Champion of the Khalsaji – 1791-1837" authored by Dr. Vanit Nalwa, a ..
Topics: Battle of Jamrud • Hari Singh Nalwa • Jamrud Fort • Nalwa • Ranjit Singh • religion • Sikhism • Sikhs
Between 1836 to 1842, Lord Auckland served as Governor General of India. During his tenure, the first Anglo-Afghan war gave a severe blow to British Prestige in India. He was termed as most unsuccessful Governor-General of India and is known for his follies in Afghan wars. Political Events during Lord Auckland The Durrani Empire which ..
Topics: Kabul • Military history of Khyber Pakhtunkhwa • Pashtun people • Ranjit Singh • Shah Shujah Durrani • Sikh Empire
Abbreviations:AICCCA: Association of Independent Consumer Credit Counseling AgenciesAPRACA: Asia Pacific Regional Agricultural Credit AssociationBCSBI : Banking Codes and Standards Boards of IndiaCALCS: Capital Adequacy, Asset Quality, Liquidity, Compliance and SystemDPSS : Department of Payment and Settlement Systems Appointments:Governor of Jharkhand: M O H FarookM O H Farook who is a Veteran Congress leader and former ..
Month: Current Affairs - January, 2010
Topics: BeiDou • Current Affairs 2010 • Measurement • Punjab, India • Ranjit • Ranjit Singh • Satellite navigation • Sham Singh Atariwala • Sikh Empire • Space program of the People's Republic of China • Spacecraft