Page-4 of
Oceanography Current Affairs, GK & News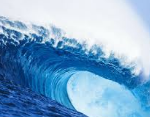 The World Meteorological Organisation (WMO) has announced that a wave which was recorded by an automated buoy in the North Atlantic ocean between Iceland and the UK in February 2013 to be the "the highest significant wave height measured by a buoy". This epic wave has overtaken the previous record-holder from December 2007, which also occurred ..
Topics: Atmospheric dynamics • Buoy • Oceanography • Physical geography • Physical oceanography • Physical sciences • Rogue wave • Significant wave height • Trough • Water waves • Weather hazards • Wind wave
It is estimated that warm seas have killed nearly two-thirds of a 700 km stretch of coral in the reef's north in the past nine months. This is the worst die-off ever recorded in Australia's Great Barrier Reef and is said to be the largest ever recorded anywhere. It is expected to give a major ..
Topics: Cnidarians • Coral • Coral bleaching • Coral reefs • Florida Reef • Great Barrier Reef • Oceanography • Physical geography • Reef
Cherry trees planted in tsunami-ravaged city of Rikuzentakata, Japan Residents of the tsunami-ravaged coastal city of Rikuzentakata in Iwate Prefecture have launched a project to plant cherry trees marking the points where waves reached on March 11, 2011 to warn future generations about a repeat of the catastrophe. The residents eventually aim to plant about ..
Month: Current Affairs - March, 2012
Topics: Iwate Prefecture • Kesen meteorite • Natural hazards • Nature • Oceanography • Rikuzentakata, Iwate • Tsunami • Water waves
India and China moved onto a new bilateral relation as they agreed upon a joint-declaration on: Sea Piracy Technological know-how on seabed research. The first offer aims to demand the Coast Guards, the Air-forces and Navies of both the nations to work in unison against the pirates. The modalities to be figured out by a ..
Month: Current Affairs - March, 2012
Topics: Crime • International Seabed Authority • International waters • Law • Law of the sea • Oceanography • Organizations • Piracy • Seabed
Appointments:Tamilnadu State Public Services Commission Chairman: MR R SellamuthuMR R Sellamuthu has been appointed as Chairman of the State Public Service Commission. who appoints chairman of state public service commission?A chairman of a state public service commission is appointed for a period of six years under Article 316(1) of the Indian Constitution by the Governor ..
Month: Current Affairs - January, 2010
Category: Government Schemes Current Affairs
Topics: Animals • BIMARU states • Coral • Coral reef • Current Affairs 2010 • Oceanography • Physical geography